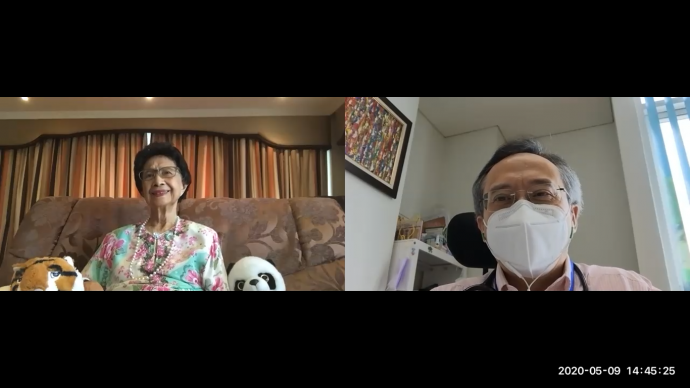 Recently, on the eve of Mother's Day, Positive Parenting chairman, Datuk Dr Zulkifli Ismail, had a casual conversation over Zoom with YABhg Tun Dr Siti Hasmah Mohamad Ali, a tireless champion of various issues related to women and family and also the lifelong partner of former Prime Minister, Tun Dr Mahathir Mohamad.
Their conversation revolved around the current global health crisis and the movement control order (MCO). Among topics they discussed included the vital role of mother, parenting during the MCO, the sacrifices of frontliners, as well as a glimpse into the celebration of Ramadan and Raya this year.
Last year, Tun Siti Hasmah was conferred the title "Ibu Negara" by the Asian Strategy and Leadership Institute (ASLI). In time with the recent Mother's Day on May 10, she admitted that it is not easy to summarise the role of a parent. She mentioned that in general, parents need to get close to their children, be there for them, and shower them with love. "The most important thing is we need to have a good relationship with our children."
When asked about the challenge of parenting in the modern age, she acknowledged various concerns such as groups who are anti-immunisation. She also remarked about the dilemma faced by working mothers. She encouraged parents to take the opportunity to "strengthen the family bond and spend more time together, especially when we have to stay at home during this COVID-19 crisis."
She also noted how the MCO can be stressful for some families, especially for mothers who have to juggle multiple responsibilities. "We need to understand their situation and appreciate their sacrifices in taking care of the family – the husband, the children and themselves. It can be tough to carry out their roles as mother with all these limitations. As a mother, she has no choice, but to be with her children."
To these strong mothers, Tun Siti Hasmah advises patience, as "what we're currently doing is to help the society as a whole to break the chain of COVID-19 infection." She also added that parents need to talk to the children about the situation and help them understand. To reduce stress, she reminded mothers that they should remember to take a break, and if possible, get someone to help them. "Be patient and stay strong for our children," she remarked.
Related: Let's Talk to Kids about COVID-19!
Regarding Ramadan and Raya celebration this year, she pointed out how unprecedented this situation is in the whole world. For some families, they may not be able to continue the tradition of fasting, breaking fast and performing the Terawih prayers together. Nevertheless, "we can still communicate through the Internet. This is one way to stay connected with our children and family members who are staying far away from us." She advised us to "accept the situation, be patient and understand that this is not a trivial matter. Remember, this is done to mitigate the outbreak."
When asked about the frontliners, Tun Siti Hasmah, who is also one of the first female doctors in Malaysia, got a little emotional, considering that there have already been a number of deaths among them. "We, the people of Malaysia, need to show our gratitude to the frontliners who are willing to sacrifice themselves in fighting this pandemic." She mentioned how these medical workers at the front line need to deal with all cases, exposing them to risks and dangers. "We need to thank them and appreciate what they are doing. Only God can repay their sacrifices and kindness," she said as she concluded the conversation.
Read more: A Morning with YABhg Tun Dr Siti Hasmah