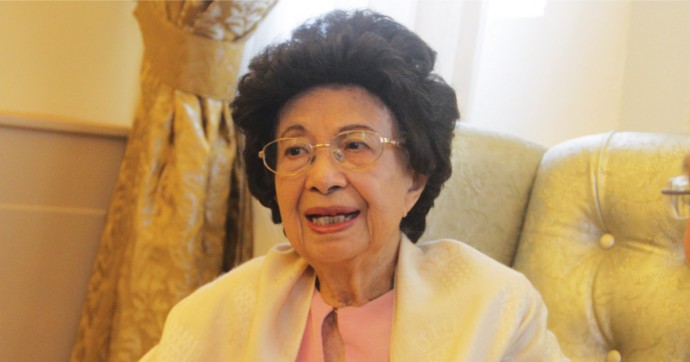 Tun Dr Siti Hasmah was born in 1926, in Kampung Jawa, Klang, Selangor. Tun's father was a government servant while Tun's mother was a full-time housewife. Tun is the sixth child of ten siblings, and has seven children, eighteen grandchildren and one great granddaughter.
At 92, Tun has a wealth of experience to share, and Positive Parenting had the privilege to meet her in February this year to get her take on parenting back in her day and most importantly, to hear her thoughts on how things have progressed since then.
Parenting Back in the Day
Back in the 1920's, Tun's parents were very conservative. Large families were the norm and Tun's family numbered an even dozen. She remarks, "The catch phrase 'parenting styles' did not exist back then but my parents had certain ideas on how children should be brought up, especially in terms of education and discipline."
Although Tun's parents were not overly strict, education and honesty were viewed seriously. Parental roles were also clearly defined with Tun's mother handling the family's general well-being, in terms of health, food, clothing and so forth, while Tun's father took charge of their education and moral values.
"I can still recall how my parents would call all of us to sit together for a 'family meeting' if one of us had misbehaved. They would explain what the misbehaviour was and the 'offender' would be punished right then and there. This way, every one of us would know what the crime was and the penalty for it. My parents each had their preferred method to dole out punishments; my father would use the rotan while my mother preferred using a ruler," Tun reminisces.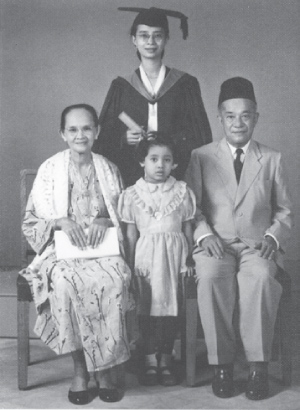 Moving Forward
Tun still deeply believes in discipline and the importance of education. However, her own parenting style does not rely on corporal punishment but on loss of privileges such as taking the phone away for some time.
"Another important point that parents need to take note of is they must be firm. They should also set a good example themselves. Do not soften or mellow the minute your child cries. You have to be firm and not give way, especially if he has done something wrong and is receiving his punishment," advises Tun.
Discipline Today
While discipline used to mean the cane, nowadays, parenting styles tend to be more child-centric, i.e. focuses or revolves around the child. Tun is supportive of the modern outlook and does not condone corporal punishment. "You must talk to the child, and ask why he did what he did. If you are giving him any punishments, be sure to give him the reason why as well," cautions Tun.
"Parents must be close to their children in order for the children to feel assured that if they have any problems, their parents will be there to help them, to listen to them, and to help them solve their problem. This is important and just as relevant today as it was when I was a child. Communication between parents and children must be there," stresses Tun. She went on to add that this should still be the case even when one's children have gotten married and have their own children.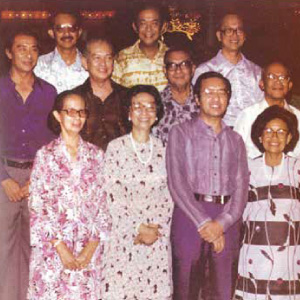 The 'Secret'
Juggling a busy career and the duties of a mother is no easy task. However, Tun was able to succeed so well because Tun was able to rely on her parents, in-laws, and siblings to help out whenever her children had to be left at home.
Also, instead of having to rely on a foreign maid to act as a kakak or bibik, Tun was lucky enough to find an experienced child-minder from Tun's own kampong. The most important aspect to look for in any child-minder is the quality of care that they can provide.
Digital Gadgets & Family
Tun expressed worry over how parents have become overly-dependent on digital gadgets to help them. Recounting Tun's own observation, she relates. "My old acquaintance from Kedah sometimes brings her kids to our house and usually hands them a digital gadget to keep them quiet. However, I believe that any good invention can be abused, especially with kids; they seem to start at younger ages."
Tun pointed out that some children even start using the computer from as young as six years old. Admittedly, digital gadgets do have their positive points, i.e. they can be an excellent source of information. However, she hopes that parents make extra efforts to check the content that their children access. It should be of high quality and contain educational content.
Tun also advises parents to control their children's access, both to the digital gadget and to the content they access. She emphasises, "Make it a point to teach your child to only use the digital gadget at certain times. Don't allow the use of any digital gadgets during family mealtimes or gatherings."
"Having contact with your children is important. You must make the time for them!"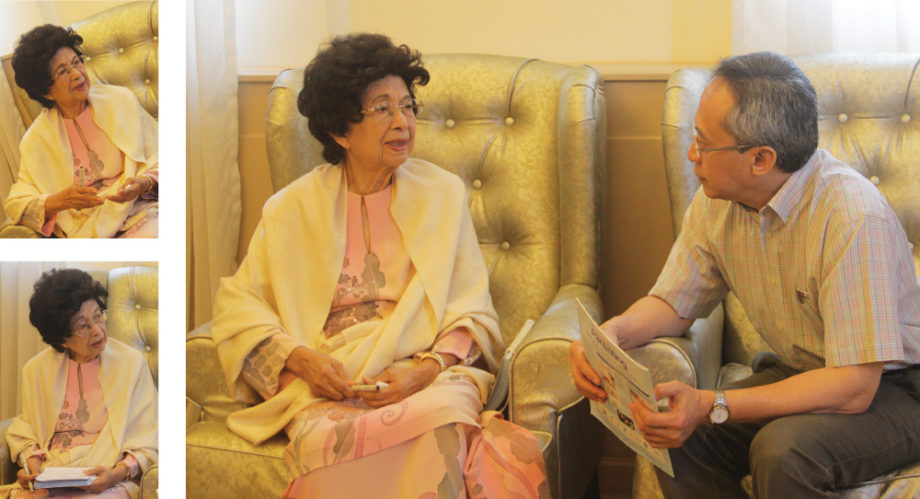 Parenting by Proxy
Gone are the days of a single working father and a stay-at-home mom. The reality of modern life is that parenting has become a team effort, which requires not just both parents, but a whole support team as well. It has become common for parents to get help from their parents, in-laws, or to hire someone to care for their child during the day. This often leads to a situation where parents spend very little time with their children on a daily basis.
Tun reveals, "I remember when (Tun Dr) Mahathir and I were doctors… I would be home earlier to be with the children, but (Tun Dr) Mahathir was a general practitioner then and often had to work late. The first thing he did once he reached home was to spend some time with the children. He would carry them around and once it was bedtime he would send them to bed."
Tun also pointed out that they often made every effort to take the children with them anywhere they went. In addition to being able to bond as a family, it was also educational for the children.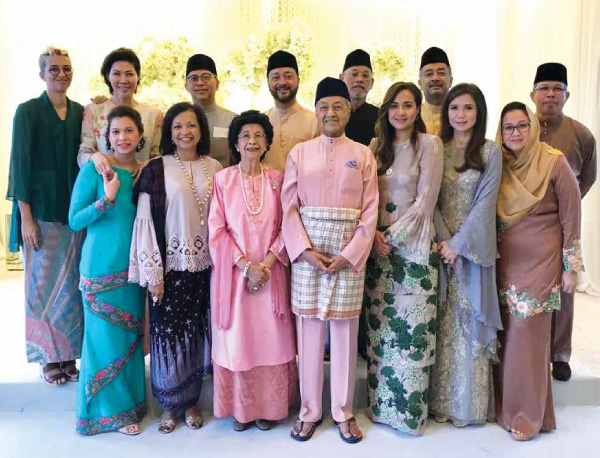 Love Your Children
Tun also wanted to highlight that parents need to take the role of parenting seriously, saying "When we have children, we have to really take care of this precious gift that the Almighty has given to us through your love with your husband. It's very sad when parents abuse their children for whatever reason. It's your child that you 'made' with your husband so it's your duty to love, protect, and care for them."
Tun also advised parents to think carefully before having children, "If you don't want to look after your children or you are not capable, it may be better not to have any children. What is the purpose of having children if you are going to abuse them? Not only will you destroy their life, you may even end up in prison!"
Tun is a big advocate of breastfeeding and feels very strongly that it is critical in helping mothers to bond with their children. Tun also advised parents to love their children and cherish their time with them, "Once they have grown up, you will be less central in their lives, as they will have their own group and priorities. Also, don't neglect their religious education, as it will help give them the guidance they may need when they are adults. As Malaysia is a multiracial and multicultural country, let them mix with everyone. In chasing after academic excellence, don't neglect teaching them moral values such as being respectful, honest, and diligent in whatever they do."
Tun Dr Siti Hasmah's Motherly Words on Parenting
Tun Dr Siti Hasmah's Motherly Words on Parenting

Tun Dr Siti Hasmah: "If you don't want to look after your children or you are not capable, it may be better not to have any children."

Article: https://mypositiveparenting.org/2018/05/22/a-morning-with-yabhg-tun-dr-siti-hasmah/

Posted by Positive Parenting on Monday, July 23, 2018