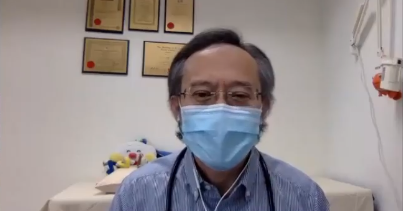 Positive Parenting recently kick-started a new segment as part of our programme called Meet Our Expert. This is a new webinar series, and in each episode, one of our experts will be sharing their insights on a topic related to parenting and current issues.
As most parents know, schools are being reopened gradually starting from end of last month when Form 5 and Form 6 students were first allowed to go back to school. Last week, more students in the primary and secondary schools have also been allowed to attend school, and by this week, all schools will be fully operational with new SOP and suitable models of operation in place.
For the first episode of this series, we sat down with the chairman of the programme, Datuk Dr Zulkifli Ismail, to discuss about the reopening of schools and how parents can keep children safe as they return after the four-month pandemic disruption.
Five main topics – hygiene, nutrition, clothing, social/physical distancing and immunity – were discussed in this first episode, titled How to Keep Children Safe in School.
Parents do not have any direct control on how the SOP will be implemented in school. What they can do is to prepare their children as best as they can. According to Dr Zulkifli, this preparation has to start even before they return to school. First, "They should know that they should be washing their hands properly … and make sure that every part of the hands is washed."
"They should be advised regarding physical distancing. They should be wearing a mask, when they are outside (especially) when they are in crowded places. They should actually try to avoid touching others as well as touching their own faces and to be reminded that they shouldn't be sharing their food or toys or stationery with their friends," elaborated Dr Zulkifli. "This should make it easier for them to cope with going back to school."
Regarding nutrition, Dr Zulkifli answered that as long as our children are having balanced meals, there is no need for any supplements. When going to school, "It is better that the child takes packed food from home and not to share the food with other people to minimise the amount of contamination."
Dr Zulkifli also shared his opinion about wearing masks: "As long as the child is out of the house, and in areas where there is a crowd, or there is confined space he should be wearing a mask. That will reduce the risk of transmission drastically." He continued, "It's a good idea to buy a fabric mask, to buy a few, because then you can alternate or change it, as and when necessary."
Physical distancing is one main concern among parents. According to Dr Zulkifli, "Children are children; you can't stop them from playing… But they must be informed that when they play, they shouldn't be too close in contact with other children. They can play some games that don't involve very much contact like badminton, tennis, table tennis. But obviously you can't be playing rugby or football at this time."
To boost children's immunity, Dr Zulkifli said that apart from a balanced diet, "They should be getting enough sleep and rest… They should complete all their vaccinations and get all these extra vaccines, like influenza, pneumococcal and complete their MMR vaccination, because these will help to protect them."
Listen to our conversation with Dr Zulkifli in more detail in the webinar video (click here to watch), and stay tuned for the next episode on how parents can help their children to navigate the outside world in the new normal.