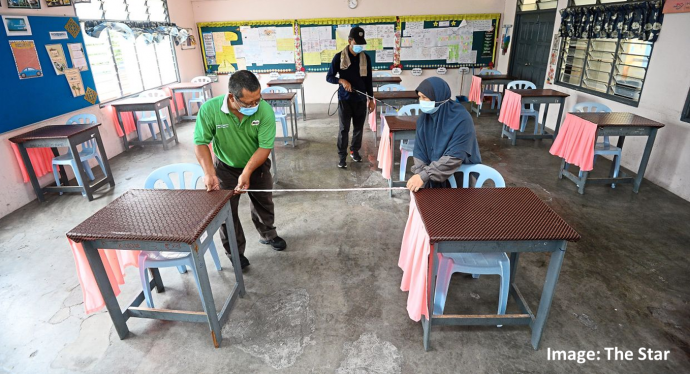 On Wednesday (July 1), Education Minister Dr Mohd Radzi Md Jidin announced the much awaited news of when schools would reopen.
Schools will now restart on July 15 for Form 6 (Semester 1) students, Remove Class, Form 1 to 4 as well as Standard 5 and 6 students. Meanwhile, Standard 1 to 4 students will resume classes the following week on July 22.
Tuition centres will also be permitted to reopen starting July 15 . However, sports and co-curricular activities at school will not be allowed yet.
Schools are now required to decide on an appropriate model of operations, according to its capacity, space and density from three recommended models:
Model 1: One session – for schools that can accommodate all their students while following Standard Operating Procedures (SOP)

Model 2: Two sessions – for schools that cannot accommodate all their students in one session

Model 3: Rotational system – the last option can be followed if schools fail to operate under Model 2
Schools will inform their respective students, parents and guardians about the selected model a week before classes resume.
Prior to this announcement, Form 5 and Form 6 students facing major exams this year, had to return to school on June 24. Kindergartens and preschools were also allowed to operate starting July 1.
Resumption of Classes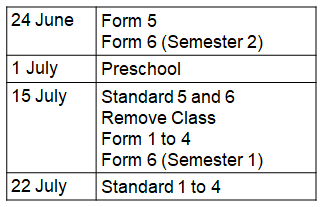 What do parents say?
Positive Parenting surveyed our followers on social media earlier this week to see their reactions on the reopening of schools. A majority, that is 75%, of the parents who answered the poll were ready to send their kids back to school, while another 25% said 'No'.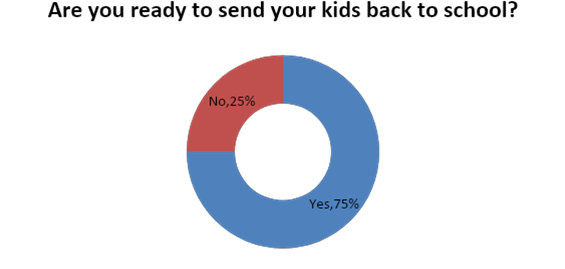 Most parents are prepared to let their kids return to school, but are still a little concerned. @marilynlimmaylian, for example, wondered, "How well can my preschool child practise the SOPs that have been put in place. I can only pray for the best."
@ayamohamad7 also expressed similar concerns. She said that she is "A little anxious, but we'll see how it goes. Just remember to follow the SOP."
On Facebook, Jane Lee said, "My daughter is excited to go back to school. But I'm a bit anxious; the idea of social distancing with small kids is not realistic."
Meanwhile, Alya Iman seemed assured it was the right thing to do: "It has to be done sooner or later. I believe the teachers will do their best to follow SOP."
Among the SOP that preschools and schools are required to follow include:
Seating arrangements have to comply with social distancing measures

Teachers have to wear face masks

Children are encouraged to use face masks

Children should not share materials and equipment

Group activities or activities that require physical contact are not allowed

Use of outdoor facilities and field trips are not allowed
You can learn more about the SOP that have been outlined by the government here:
Positive Parenting is also planning a special interview with our expert to discuss the SOP of schools reopening and what parents can do to help their children adapt to the "new normal". Stay tuned for more details by following our Facebook and Instagram account!