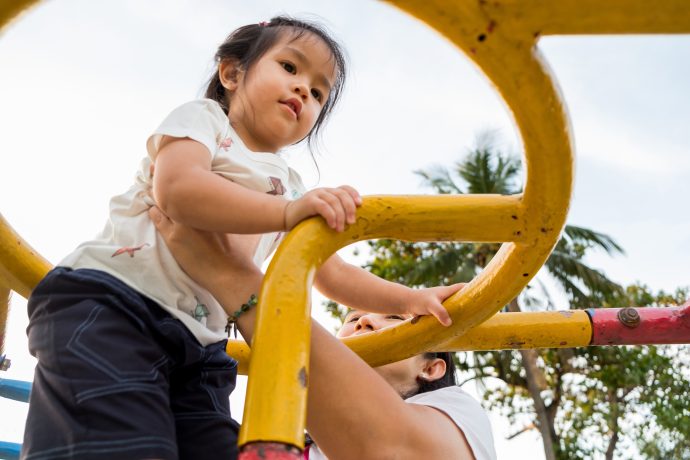 Last week, Senior Minister Datuk Seri Ismail Sabri Yaakob reminded parents that even though there are no rules preventing parents from taking their children out during the Recovery Movement Control Order (RMCO), they are still encouraged to keep them safe at home.
During the RMCO, parents are allowed to take their kids to playgrounds, restaurants, malls and other places. However, crowded and confined places should still be avoided and strict SOPs need to be followed.
Positive Parenting recently ran a poll asking our followers on Facebook and Instagram if they would take their children out now since the rules have been relaxed. Here are their responses: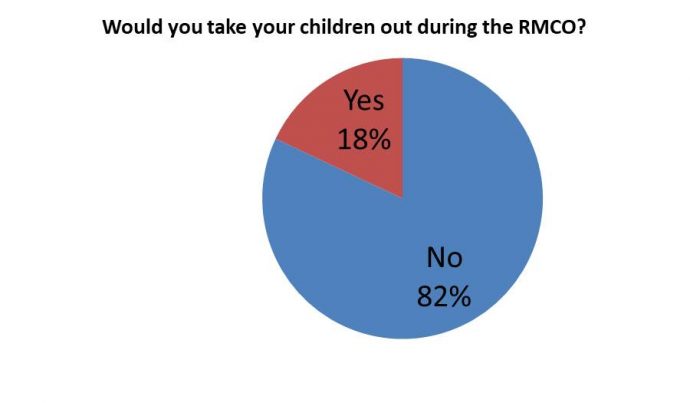 We also received several comments from our followers regarding the matter. Trisha Lavittae on Facebook opined that the rules have been loosened by the government not because it is already safe now. She said, "It is done to stimulate economic activities of the country. Parents should understand this fact and protect your little one wisely." Chandra Malar also shares the sentiment with Trisha that it is still risky to take kids out.
On Instagram, @marissafoodjournal commented that this depends on parents and how cautious they are. She said that she makes sure to put both her kids in strollers when going out to minimise exposure. She added, "Don't go to crowded places. We are also more selective when choosing a restaurant to dine in. I cannot keep my kids at home all the time. They also need fresh air."
@alia_iman also agreed with her. She feels that parents cannot keep their children in the house forever. However, she also added that it is still probably unnecessary to take babies out.
Meanwhile, @putri_fairuz is still hesitant to take her children out as there is still no vaccine for COVID-19. "For me, there is no need to go out with a child. There are many other ways to have fun with your kids. Prevention is better than cure."
Whatever your opinion on this matter, it is important to be cautious and aware that the pandemic is still not over, and in many countries still raging on. It's best for little ones to stay at home, but it is perfectly understandable that some parents need to take their kids out for some fresh air. Be vigilant and practise these tips when you have to go out with your children.
Avoid crowded and confined places. If you see the shop that you are about to enter is crowded, find another place or wait until there are fewer people.
Avoid close contact. Physical or social distancing still needs to be practised at all times. Try to stay 1-2 m away from other people in public places. Do not let others kiss, hug or touch your children.
Handwashing and hygiene. Frequent handwashing with soap and water (or hand sanitisers) should still be continued. Also continue to practise good hygiene and cough/sneeze etiquette.
Wear masks or use strollers/baby carriers. Parents and older children should wear appropriate-sized masks when going out. If you must go outside with your baby, use a rear-facing stroller or baby carrier, or a stroller with cover.
Follow SOPs. Be sure to observe the SOPs that have been outlined by the authorities, e.g. recording your name, number and temperature, limiting the number of customers, etc. These may be a little inconvenient, but they have been implemented for our safety.