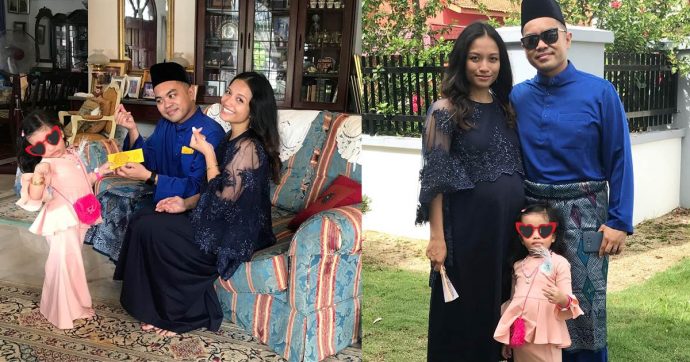 For many Muslims around the world, Ramadan and Raya (often also referred to as Eid) is a time to strengthen the bonds among family and friends, and a time to be together, reconnect and celebrate. However, the observation of Ramadan this year has been a very different experience from the previous years. The same will go for Raya. This is all due to the COVID-19 crisis and the restrictions on movement that have been taken to curtail its spread.
The Conditional Movement Control Order (CMCO), which is still in force until at least 9 June, is a less strict arrangement for Malaysian citizens compared to the earlier phase. But this still means there were no Bazar Ramadan, Terawih prayers at the mosque and "balik kampung" this year. Nevertheless, one was able to find e-Bazaars popping up online, you were able to perform your Terawih at home, and there are still numerous ways to virtually meet and connect with your parents, relatives and friends this Raya.
The National Security Council has outlined a number of SOPs to follow this Raya. It is up to us to adapt and practise these new norms to ensure that our celebrations end well. Positive Parenting approached two young parents to share their stories and find out how Muslim parents in Malaysia have been adjusting to these changes.
A bittersweet situation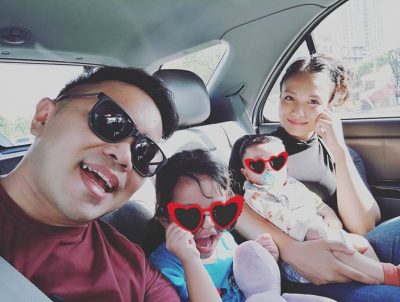 Dr Adil Johan is a full-time research fellow at the Institute of Ethnic Studies (KITA), Universiti Kebangsaan Malaysia. He actively conducts and publishes research on Malaysian popular music. He always considers himself a musician first, and currently plays the saxophone for Azmyl Yunor Orkes Padu and co-founded the band, Nadir (@nadirmusicofficial on FB and IG).
His wife, Nabilah, is an industrial designer and works as a consultant at a multinational company, and they are both proud parents of a four-year-old girl, Z, and an eight-month-old baby boy, R. They are currently staying in Taman Tun Dr Ismail, while waiting for the renovation of their actual home in Seksyen 6, Petaling Jaya to be completed.
In our e-mail interview with Adil, he shared how Ramadan is not too different for his family this year. "We still wake up in the wee hours for sahur and break our fast at home as per usual. The azan can still be heard in our neighbourhood, and perhaps, this lends a sense of normality. However, we do very much miss the "Bazar Ramadan" in our neighbourhood, which we frequented at least once a week during last year's Ramadan."
One difference that Adil noticed this year was the scene at the market. "The first few weeks of Ramadan during the MCO were surreal, especially when we would go out to buy supplies. The usually bustling Taman Tun had an eerie apocalyptic vibe, with many stores shuttered and people lining up obediently outside grocers with their face masks. However, for the first time ever, I had no problems finding parking at the Taman Tun shops during work hours!"
Raya is going to be interesting and also a little sad for Adil and his small family. "My own parents work in Singapore, and they will be stuck there for the duration of their 'circuit breaker'. So Z and R will not be able to spend time with their Nana and Tata this Raya. Likewise, Maktok and Paktok (Nabilah's parents) have been in Muar for the duration of the MCO until Raya."
When asked about difficulties that have arisen from the situation, Adil thought that one of the biggest challenges during this MCO-Ramadan period was having to maintain their obligation to fast, while parenting full-time and juggling work-from-home responsibilities.
"We are very fortunate to have help at home, but we are also very hands-on parents. On some days, Nabilah has back-to-back video meetings in the day, so I will usually be in charge of the kids. Our preschool has been very good to provide online classes from 9.30am to 11.00am on weekdays. However, getting Z to engage and focus in class can be a challenge. Sometimes, both my wife and I have work duties during these class times, so we have to give them a miss."
"My current best 'friend' is my Baby Bjorn carrier for R as it allows me to hold him securely, while my hands stay free to prep the kids' meals, or read books or articles for my research… Actually, the hands need to be free to access my phone!"
Despite these challenges, Adil and his family are very thankful for everything that they have. "The struggles of Ramadan remind us of those who are less fortunate. It is difficult to imagine parenting and working without having Kak Sri to help us cook our daily meals and keep our home squeaky clean every day. Our patience and endurance as parents are also tested daily, amidst Z's boisterous energy and R's increasing mobility – he's just a few days away from being able to stand and walk," Adil shared.
He also reflected about the paradox of parenting in this situation: "Despite all these challenges, it is an extreme joy to see them grow by the minute. During this MCO, we are actually grateful for the generous amount of time that we now have to spend with our children."
The celebration goes on
Raya preparations have been a bit slow for them this year due to their busy schedule. "Fortunately, we managed to get matching Raya clothes for Z and R just a week before Raya, from our neighbourhood boutique, SUEKAkids (@suekakids on Instagram). For the parents though… if we have time we'll do some last-minute shopping to get somewhat matching clothes. We are planning to go for a more relaxed and casual look this year, as we will be at home all day on Raya."
In terms of food, Kak Sri, their live-in help will be making their special family recipe of mushroom rendang and also the traditional beef rendang. "Z and I will help Nabilah to bake a cake and some cookies. I am hoping to buy some lemang, and I'm banking on the usual Taman Tun lemang sellers, but they may not be operating this year."
Normally, they would spend Raya at Adil's grandmother's house in Subang Jaya, but everyone have decided not to expose her to any risk and will not be going there this year. "On Raya day, we are planning a family video conference call for all of Opah's children, grandchildren and great-grandchildren. We will endeavour to maintain social-distancing this Raya by staying (and feasting) at home, while making video calls to our relatives and friends. My sister, Dr Rosa, is a frontliner in the UK, currently in her first year of housemanship. We will definitely prioritise giving her a video call this Raya."
A time of gratitude
For Suzy Sulaiman, 43, a full-time postgraduate student and a freelancer, the biggest difference in Raya celebration this year is that they won't be able to spend Raya morning with her family and her in-laws. "We won't be able to take our Raya photos wearing our new Raya clothes. I will definitely miss spending time with my extended family and visiting relatives. As for Ramadan, we still continued to perform Terawih prayers at home, so it didn't really feel that different to us."
Suzy, who is staying in Selangor with her husband and children, also said that despite the unusual Raya celebration this year, "It's not that frustrating, in fact, it's a good change as you don't waste your time, money and energy on mindless material consumption. Raya doesn't have to be a big colourful celebration. It is equally satisfying for me to celebrate it humbly and remind ourselves to be grateful for the simple things, like our health, the roof over our heads and the foods on our tables."
She ended the interview by sharing her gratitude: "I'm grateful that my close family members are well and healthy. I have two playful cats, happy goldfish in my aquarium and my garden; these are some things I'm thankful for. I'm also grateful that I am healthy myself and I am employed."