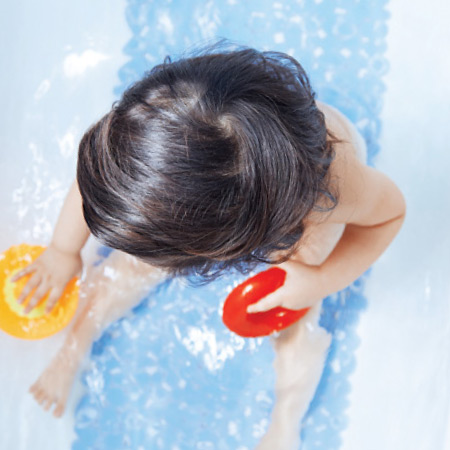 The first comprehensive national study on drowning in children published in the Malaysian Journal of Paediatrics and Child Health (MJPCH), compiled statistics from 2000-2007. The study concluded that around 600-700 people die of drowning every year in Malaysia. Of those, 250-300 (44.5%) were children under the age of 18. Similarly, the national average drowning fatality rate in children is 3.05 per 100,000, which is quite low when compared to the recorded 13.9 for low and middle income countries in the Western-Pacific region. Despite that, drowning is still a major cause of death in children between the ages of 1 to 18, second only to road accident-related fatalities. The precautions taken to keep your child safe from drowning may evolve as your child grows older, more agile and independent.
Did you know?
Drowning can happen very quickly and in less than 6 cm of water. Left unsupervised, filled bathtubs, swimming pools, wading pools, hot tubs, and even buckets of water and sinks can be potentially lethal.
Babies and Infants
Children between birth and 1 year of age are not normally susceptible to drowning since they rely heavily on their parents and are dependent upon them for most of their routine. However, there have been cases where babies have drowned (especially during baths) because they were left briefly unattended by parents or caregivers while transiently distracted by a short phone call or going to get a towel.
Never leave a baby unattended in the bath. If you must answer the telephone or door, don't rely on an older sibling to watch the baby; wrap your baby in a towel and bring him or her with you.
Never use a bathtub seat or supporting ring without constant adult supervision. The seat can overturn or a baby may slip out into the water.
Never leave a bathtub, pail, or other water-filled containers with any amount of water unattended.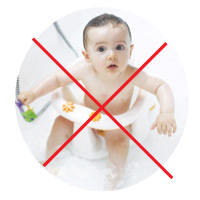 Toddlers and Preschoolers
Children within this age group have the necessary physical ability to reach further, move faster and open knobs or simple locks. With this newfound skill comes increased risk of injury.
Inflatable flotation devices such as vests, water wings, rafts, and tubes can give a false sense of security in the pool. Never use these as a substitute for constant adult supervision.
Install a toilet-lid locking device and keep bathroom doors closed at all times. (Or you may want to install a doorknob cover or lock).
Remove toys from the pool when kids are finished swimming to prevent them from trying to recover them when unsupervised.
Dump out all water from a wading pool when you're finished using it. If you have a permanent pool, make sure it's properly fenced.
Beware of common condominium swimming pools – always watch out for unsupervised children around these pools.
Most children can learn to swim at about age 5 – but swimming lessons won't necessarily prevent a child from drowning, adult supervision is still required.
School-aged and Teenagers
Drowning is most prevalent in those between the ages of 10-14 and boys are 3-4 times more likely to drown than girls. Reported cases occur mainly at sea, ponds or rivers.
At public beaches, swim only in areas set aside for swimming. Don't allow children to swim in drainage ditches, water treatment plants, water processing pools or other public water-filled areas not intended for swimming – teach them about the dangers.
Don't allow children to play near or sit on pool or hot tub drains. Body parts and hair can become entrapped by the strong suction.
Never let your child dive into unfamiliar waters.
Enrol your child in a lifesaver programme where they can learn and familiarize themselves with water safety through practical training.
River and sea currents are not visible below the seemingly calm-looking surface, children, even adults, often make the mistake of underestimating nature – educate your child and yourself on water safety.
Make sure your child does not play in water during floods or similar disasters. Always keep a watchful eye on your family and be prepared in case of emergency.
Even the most vigilant of parents cannot ensure a child remains accident-free all of the time, there's always a possibility that it can happen when we least expect. Take the initiative to learn child cardiopulmonary resuscitation (CPR) and have medical emergency contacts (i.e. ambulance, doctor, or fire department) on speed dial and be ready to act. A little knowledge and know-how may save your child's life or that of another's.
An educational contribution by Malaysian Paediatric Association.