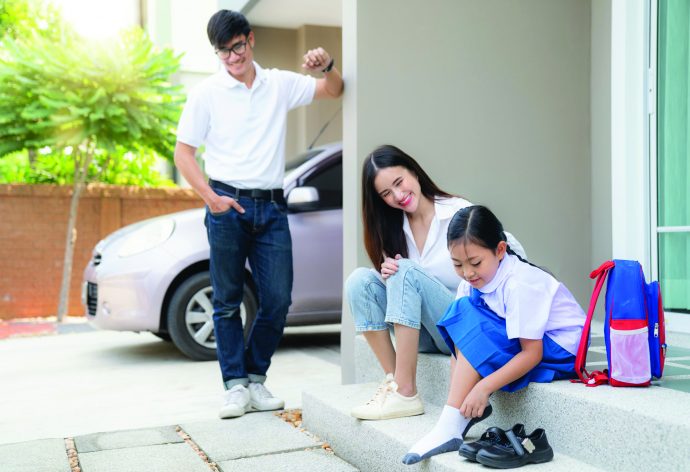 Many school children as well as parents may find it a little disorienting that the new school year starts in March 2023, since traditionally school would begin in January after a long year-end break. To circumvent any concerns, it is best that parents prepare for the new school year ahead of time.
Preparing for school
Even though the mask mandate was relaxed in September 2022 and life seems to have reverted back to its former pace, children (and parents!) may still have lingering questions about COVID-19 and its continuing effects on all of us.
There are many ways to approach school preparations. You can visit your child's school and talk to the administration about its latest regulations and policies regarding health and hygiene in school. Individual schools may differ, so it's best to check with the school if masks are still mandatory and if children are still required to practise strict physical distancing.
Another thing you can do is to prepare a daily schedule for your child before the next school year starts. Try including a scheduled time and space each day for them to unwind at the end of the day and talk about their issues as well as coping strategies. Make sure to give them special one-to-one time, talking about the things they do every day. Try and incorporate this into your schedule so it becomes part of the family routine.
Don't forget to stock up on things that your child will need, including uniforms, exercise and reference books, stationery and art supplies. Start meal planning together with your child and include a list of nutritious meals and snacks that they will enjoy. You may also want to plan ahead your family holidays, as holiday schedules may be slightly different than previous years.
Health matters
When it comes to health, the new year is the best time to evaluate the family's health and get the necessary vaccination jabs that your children may need. As part of the National Immunisation Programme, if your child is in Primary 1, or in Secondary 1 or 3, they will probably be due for some jabs, i.e.:
7 years old: diphtheria-tetanus (dT)
13 years old (girls): HPV (2 doses)
15 years old: tetanus (ATT)
Apart from these, parents should also consider getting the annual flu shot for their kids. A flu vaccine is the best defence against influenza and reduces the spread to others. It reduces illnesses, doctor's visits and missed school days. The chickenpox (varicella-zoster) vaccine is also recommended for children as schools are a setting where children come in close contact with each other. Children who have never contracted chickenpox are especially vulnerable to it. Consult a healthcare professional to learn more about recommended vaccinations for children.
The beginning of the year is also a great time to remind your child about the practice of good personal hygiene, including proper handwashing, as well as good sneeze/cough etiquette, e.g. coughing and sneezing into tissues and discarding them properly.
In addition, monitor your child's developmental milestones and learning abilities to look out for any concerns which then can be discussed with teachers and healthcare professionals. As mental health is also of great concern after the pandemic, be sure to look out for any symptoms or behavioural concerns in your child so you can attend to them quickly.
Parents should practise open communication with their school-going children and make it a habit to talk about school and whatever concerns their children may have, if any, about going back to school next year. This plus all measures mentioned above will allow you to give your child a head start as they return to school in the new year.
Back-to-school to-do list
Here's a quick checklist so you don't miss out on anything before school starts again:
Before school starts:
Transportation to and from school
Schedule for school/tuition/extra-curricular activities
Pocket money
School lunch & after-school snacks
School fees and when it's due
Kids' health & vaccinations
Activities with your child:
Wrap school books
Buy new uniforms, bags, shoes, stationery
Create bedtime and morning routines
Make time to talk to your children about their day