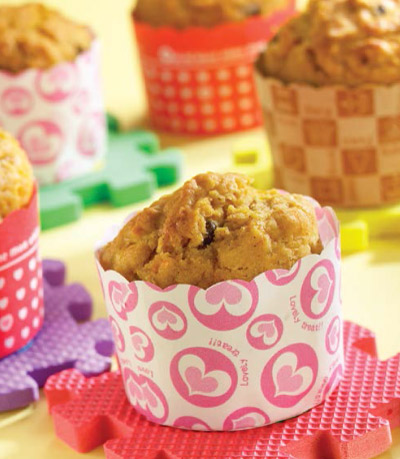 Ingredients:
(12 muffins)
100 g (1 medium-sized) green apple, peeled and grated
70 g (½ cup) pumpkin, cooked and pureed
80 g (½ cup) raisins
125 ml (½ cup) full cream milk
190 g (¾ cup) honey
1 egg, lightly beaten
45 ml (3 tbsp) vegetable oil
sieved together

190 g (1 ⅓ cups) all-purpose flour
90 g (⅔ cup) whole meal flour
10 g (2 tsp) baking powder
2 g (½ tsp) baking soda
1 g (½ tsp) cinnamon powder
---
Method:
Preheat oven to 180°C.
In a large bowl, whisk egg, oil, honey and milk together.
Add grated apple, pumpkin puree and raisins into mixture and mix well.
Slowly add sieved flour into the batter. Stir briefly till you get a fluffy batter. Do not overmix as this will make the muffins hard.
Grease the muffin tins or line them with muffin cups. Fill each cup ¾ full with the batter.
Bake for 20 minutes. Your muffins are ready when a tester (toothpick) inserted comes out clean.
Serve warm.
---
Nutrient content per serving:
| | |
| --- | --- |
| Calorie | 205 kcal |
| Carbohydrate | 38 g |
| Protein | 3 g |
| Fat | 4.6 g |
An educational collaboration with Nutrition Society of Malaysia
Recipe courtesy of "Nutritionists' Choice Cookbook, Vol 1: Healthy Recipes for Your Little Ones" by Nutrition Society of Malaysia. To purchase this recipe book which includes 100 recipes, please email:
[email protected]