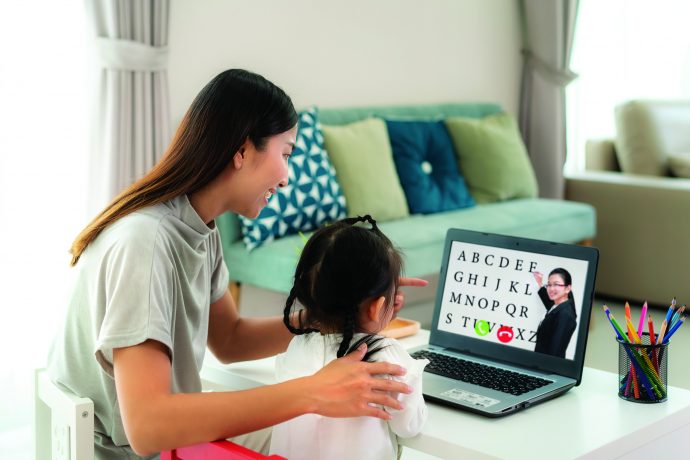 Numerous articles have elaborated on how COVID-19 has impacted us during these past two years. Even our little ones are not spared from the widespread impact.
Indeed, nearly 2 billion children worldwide have been affected, particularly due to school closures caused by the on-going pandemic. Because of this, there is a rapid rise of virtual learning, also known as online, distance, remote or e-learning, whereby teaching is undertaken remotely, mostly at home, away from the typical classroom setting and on digital platforms.
Therefore, it is pertinent to look at the concerns and consequences linked to prolonged virtual learning in children, so that parents and educators can help them to cope with the situation, even as the school is reopening, whether fully, gradually or in hybrid physical-virtual mode of learning.
The two sides of virtual learning
If you are a working parent, you may have realised by now all the challenges and advantages that come with working from home. Similarly, there are concerns as well as benefits associated with virtual learning that your child may have experienced since they first started their online classes in early 2020.
According to Prof Dr Alvin Ng Lai Oon, "One of the major issues is the sudden shift from the typical physical classroom setting to digital and remote learning. Children and teachers who have never used Zoom, Google Classroom or any other online platforms had to quickly adapt to these digital platforms when the lockdown was first imposed. Then, there are also concerns about the lack of equal access since not every family can afford to provide enough appropriate e-learning devices for their children and not all areas have strong and stable internet connectivity to facilitate e-learning. This could lead to a digital divide among our children."
The clinical psychologist continues, "Virtual learning has also potentially increased screen time and decreased physical activity among children. Plus, it may result in a decrease in engagement and interaction with peers and other people outside of the family. The lack of structure in children's day-to-day routine may also affect their learning. For children with special conditions or learning disabilities, there are even more challenges, especially with the lack of support for virtual learning and the unstructured home environment that may not be conducive for their learning."
On the other hand, not everything about the situation is grim. Dr Cindy Chan Su Huay says, "There are some positive aspects of virtual learning such as the more flexible schedule at home compared to the rigid school schedule. Virtual learning also encourages self-paced learning and self-regulation as children can do work at their own pace and pick up the skill to manage their own schedule."
"Some students may also find it easier to focus on their lessons through virtual learning as there are fewer distractions at home compared to a crowded classroom. There are also less social or peer pressure, especially for those who experienced bullying or discrimination at school. At home, children also learn new skills they may not get from school as they navigate online learning platforms, enroll in IT-related extracurricular classes or pick up new interests such as cooking or gardening," Dr Chan explains further.
She also states, "Children could also get more rest and sleep since they no longer have to go through the morning and after-school rush, which is also a relief for parents as well! And since everyone is spending more time together at home, it presents a good opportunity to strengthen the family bond."
Virtual or physical learning: which is better?
To answer this question, it is necessary to reflect on the current reality in our country. Since our children transitioned to virtual learning in 2020, you may have heard of distressing news about students in rural areas going to extreme lengths just to get a good internet connection for their classes or exams.
According to Malaysian Communications and Multimedia Commission (MCMC), fixed broadband penetration rate in Malaysia is only at 34.5% as of the second quarter of 2020, with Kelantan and Sabah found to have the lowest rates at 12.2% and 16.1% respectively. Fixed broadband has better speed and reliability compared to the 4G connection via smartphones. And even if these children are living in places with stable connection, their family may not be able to afford the high-speed connection or suitable digital devices for learning.
Dr Chan says, "For students who are fortunate enough to have access to regular, stable virtual learning, it is still challenging for them to maintain focus and stay engaged for the whole duration, since hours of looking at the screen can be mentally exhausting. Online interactions are also less efficient and impactful for many students and teachers. This is even more difficult for younger children as they have shorter attention span and typically require a more physically structured environment. They also prefer activities that are active and hands-on."
The developmental and behavioural paediatrician continues, "We are beginning to see that after two years into the pandemic, many students and teachers are experiencing 'e-learning fatigue'. Some students are starting to feel less motivated to show up for classes or submit their assignments. There are pervasive worries among parents that children may be left behind academically and socially."
She also considers the counterpoint, "Admittedly though, older children with good self-management skills may benefit from the flexibility provided by virtual learning. Some early research shows that virtual learning, with the right tools and environment, may help some students learn faster compared to the traditional setting because they can learn at their own pace, revise, skip or accelerate through the syllabus according to their individual capabilities."
In the long term
We cannot foresee the future, but it's important to consider possible consequences of prolonged virtual learning in the long term so that preventive and restorative measures can be taken early.
According to Prof Ng, "Among consequences that we may see and have seen are social-emotional impacts such as disengagement and isolation. Without effective social connection with peers and teachers in the classroom, students may struggle to stay engaged and focused on the lesson. Furthermore, increased screen time due to online learning may reduce their one-on-one interaction, leading to social isolation."
"Disengagement and social isolation disrupt the development of social-emotional intelligence and skills needed for interpersonal relationship, emotional well-being and adapting to the society. Too much focus on the syllabus, rote learning, assignments and grades without any socialisation could result in the children growing into adults with problems adjusting into the society and independent adulthood," he adds.
The founding president of the Malaysian Society of Clinical Psychology says, "In terms of mental health, there are also concerns that depression, anxiety and adjustment disorders could arise during the period of virtual learning and lockdowns. Uncertainties, pandemic concerns, financial worries, sedentary lifestyle, all these increase stress and reduce emotional well-being, possibly leading to prolonged mental health issues."
Prof Ng continues, "Studies have also shown extended virtual learning may result in certain neuropsychological effects on the developing brains of young children. Typically, virtual learning requires students to rapidly switch between digital tasks and involves complex multi-method audio-visual stimuli. In the long run, this may affect the neural circuitry and brain structure, thus impeding attention, verbal intelligence and processing speed. Cognitive overload during virtual learning may also impact learner satisfaction, comprehension, prioritisation and deep-level information processing. In the end, students may fail to understand what is being taught, and worse – lose interest in formal learning."
Datuk Dr Zulkifli Ismail has this point to offer, "We may also see a decline in academic performance. Many students during this pandemic have been unable to catch up with the standard syllabus and are falling behind their peers. The lack of assessment and direct interaction during virtual learning has also made it more difficult for teachers to detect these children with learning issues and provide help for them."
The chairman of Positive Parenting also mentions about physical health, "Staying at home has also increased sedentary lifestyle among children and affected their physical health. Children tend to exercise less and consume more processed, sugary or salty foods. They also experience poor sleep and eyestrain due to increased screen time. A new term, "covibesity", has even been coined to describe the prevalence of weight gain during the pandemic."
Prof Ng adds, "In fact, sedentary lifestyle and reduced physical activity may also contribute to neuropsychological decline since a healthy and fit body is better equipped to facilitate cognitive abilities and executive functioning, which are important for their learning and development."
Roles of parents
During virtual learning at home, parents play a major role to facilitate the process and help their child cope. Here are some insights from Pn Anisa Ahmad on what you can do:
Build rapport with teachers: Communicate with your child's teachers so that you are in the loop about all the activities and tasks that your child has to participate in. Two-way communication with teachers is important so that each party can help each other out for the benefit of the child.
Create a special corner: Set up a dedicated fun learning space for your child to have their virtual learning. Let them add their favourite toys or story books to customise the space. After their virtual classes, allow them to play or do some hands-on activities on their own at the space.
Supervise e-learning sessions: If your child is younger, you may have to accompany them during the whole session. If the child is older, you only have to monitor them from time to time and ask if they need any help from you.
The president of the Association of Registered Childcare Providers Malaysia also stresses that "E-learning for children below 2 years old should not take more than 10 minutes per session as their attention span is very short and the purpose is only to build trust and engagement with their teachers. For older children in kindergartens, don't force them to stay for more than 20 minutes of virtual learning per session as the main purpose is for them to engage with their peers and teachers and build their social-emotional skills. Most importantly, limit screen time outside of e-learning."
Ms Eveleen Ling also shares some tips on e-learning:
Make sure they're on track: Know their current progress and help them to catch up with their teachers and peers by explaining and providing examples. Keep updated with the teachers and take note of their assessment results and development.
Set a daily routine: Even if they are not attending school, a schedule can help to create structure in their daily activities and fill up their days. Ask for their input when creating the schedule and be flexible.
Set rules and guidelines: For older children, this may be necessary to keep them disciplined and organised. This is also a way to let them know about your expectations.
The chairperson of Malaysian Association of Kindergartens adds an important reminder to parents, "Don't be too hard on yourselves! Do your best to accommodate your child's e-learning while trying to fulfil your other responsibilities. But remember you are not trained as a teacher and not supposed to replace teachers' roles completely."
Going back to school
Schools and kindergartens have been going back and forth between closing and opening since the start of the pandemic. The recent school reopening in October has been conducted in gradual and partial manner as the authority is still cautious about full reopening.
According to Pn Anisa, "Allowing children to return to schools, kindergartens and childcare centres are necessary as parents return back to work. But most importantly, this provides an opportunity to nurture children's social, emotional and physical development. Physical learning also provides a suitable space and environment for conducive learning, offers access to other resources and lets children get regular exercise."
"Don't worry about sending your child to TASKA as we have strict SOPs in place, which is recognised by UNICEF. We strive to always provide the safest learning environment to children. Plus, it is compulsory for all teachers and childcare providers to be fully vaccinated," she adds.
Ms Ling states, "The virus is here to stay with us, so parents and teachers should continue to follow the SOPs, such as wearing masks, safe physical distancing, practising good hygiene, self-testing, avoiding crowded places and filling up the health declaration forms. Monitor children's health and well-being, their learning progress and attendance as well as local case trends to adapt to the situation and be ready for any changes."
Meanwhile, Datuk Dr Zulkifli reminds parents to "Get your children vaccinated against COVID-19 once they are eligible to receive it. Don't miss the routine vaccines and other recommended vaccinations as well!"
And this is Prof Ng's final point: "Look out for children's mental health too! Be alert of signs of distress or anxiety in them and provide appropriate emotional support to affected children."
The sudden and unplanned shift in education approach from physical to virtual learning and the unpredictability of the pandemic situation are the main factors that lead to these concerns in virtual learning. Thus, parents need to be aware of their important role in helping their child cope and adapt with the new situation. There is no doubt that virtual learning has potential and place in the future of education, but it is necessary to fine-tune its approach according to the needs of our children.