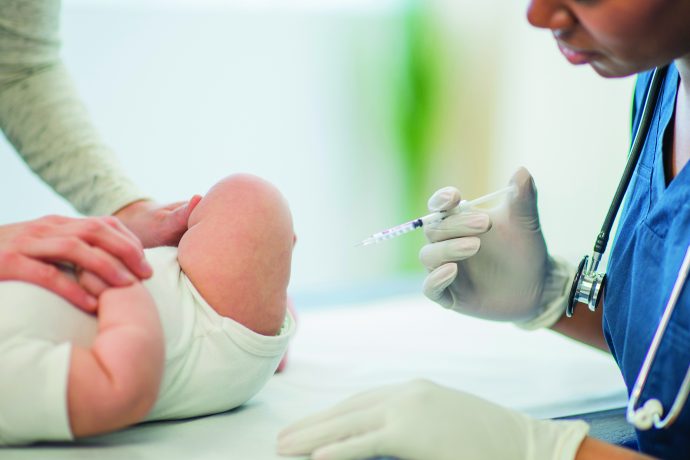 Amidst all the confusion and disruption caused by the COVID-19 pandemic, at least one piece of good news arrived: the introduction of pneumococcal vaccination in the national immunisation programme (NIP) for children.
After a RM60mil budget was allocated and approved by the parliament in 2019 for the pneumococcal vaccination programme, it was scheduled to roll out in June 2020. But the pandemic and other issues got in the way, causing a delay to the implementation of the programme. Finally, after more than a year, the vaccine is now available for free at public health facilities.
About the vaccine
Pneumococcal conjugate vaccine (PCV) is selected for the NIP.
PCV provides long term protection against pneumococcal diseases such as invasive pneumococcal disease (IPD), pneumonia and acute otitis media caused by Streptococcus pneumoniae.
It is given to babies in 3 doses (2p+1 schedule): 2 primary doses at 4 and 6 months old, and 1 booster dose at 15 months old.
Eligible for all children born on/after 1 Jan 2020.
To comply with the new norms and avoid congestion at hospitals, parents are advised to make an appointment with government clinics to get the free pneumococcal vaccination for their baby.
A step forward
The introduction of pneumococcal vaccination is a big deal and a major improvement for Malaysia's NIP. It is a necessary addition to the NIP, considering that pneumococcus is the most common cause of pneumonia, bacteraemia (bloodstream infection), meningitis and acute otitis media (middle ear infection) in young children. It also the culmination of advocacy work by the Malaysian Paediatric Association (MPA) since 2006.
Globally, pneumococcal disease is the foremost cause of vaccine-preventable disease and death in children under five years old. In 2015, nearly 10% of all children-under-five deaths were estimated to be due to pneumococcal infections. Meanwhile in Malaysia, pneumonia was the third leading cause of infant deaths in 2019, followed by meningitis in fourth position. Pneumococcus is known to be among the main pathogenic causes of both diseases.
The World Health Organization (WHO) has been recommending the inclusion of pneumococcal vaccine into the routine childhood immunisation schedule since 2007. Since then, many countries such as the USA, UK, Brazil, Colombia, Finland, Sweden, Kenya, Tunisia, Pakistan, Australia and New Zealand have all integrated the pneumococcal vaccination into their programme and shown significant decline of invasive pneumococcal disease cases. As of March 2020, 146 member states of WHO have introduced PCV into their NIP.
As Malaysia joins the rest of the world, the public will soon reap the benefits. This programme will allow more access to protection for the entire population and gradually build up herd immunity. Consequently, vulnerable non-vaccinated populations, such as people above 65 years old, will also gain indirect protection against pneumococcal infections. Pneumococcal vaccination is also an important approach to fight increasing antimicrobial resistance.
Addressing some concerns
1. Why are we using 2p+1 schedule, not 3p+0?
WHO recommends a 3-dose schedule, either as 2p+1 or 3p+0, and suggests that the 2p+1 schedule has potential benefits over the other as higher levels of antibody are induced during the second year of life, when the booster dose is scheduled. This gives better protection that may last longer.
2. Is the serotype coverage sufficient?
A study found that serotypes 14, 6B, 6A, 19F and 19A are the most common pneumococcal serotypes in Malaysia. Available PCV has been shown to induce adequate antibody response protection against these common Streptococcus pneumonia serotypes.
3. Can we switch the vaccine type once the programme/series has commenced?
This is not recommended unless there are significant changes in the factors that determine the selection of the vaccine, e.g. rising cases of serotypes not covered by the vaccine. But any available vaccine type should be used to complete a series, if the original type is not available or cannot be used.
4. How has the pneumococcal vaccination programme performed in other countries?
The introduction of childhood PCV in the NIP such as in Brazil and Finland since 2010 has resulted in significant decreases of invasive pneumococcal disease due to any vaccine serotype during the first 3 years, with 83.8% and 92% decreases reported respectively.
The introduction of PCV into Malaysia's NIP is great news to all parents with newborns. Our future generation is now protected against another additional vaccine-preventable disease. They now face less risk of dangers as they grow up. If you accidentally missed your baby's appointment, your paediatrician will be able to advise on how to reschedule. Set up your child's vaccine appointment today!
An educational contribution by Malaysian Paediatric Association.