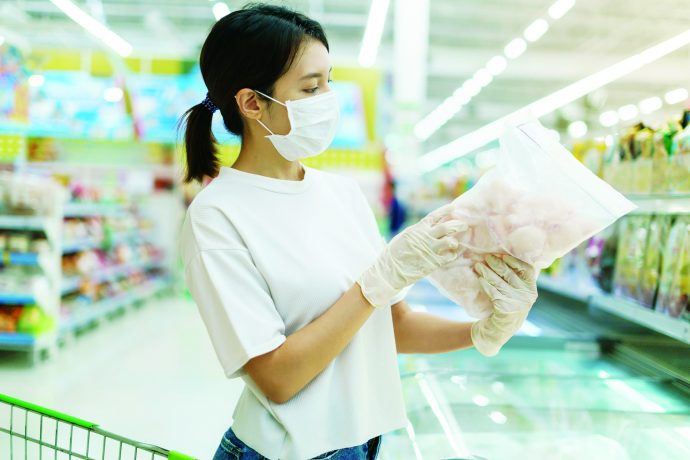 There are many factors for parents to consider when buying food and produce at the market. Apart from nutritional value, one should also pay attention to food safety and quality.
Food safety means ensuring the food is safe from chemical, physical or biological risks starting from production until consumption. This is important as it prevents health hazards linked to unsafe food. Contaminated food may contain pathogens that can cause foodborne illnesses such as food poisoning, cholera, typhoid, hepatitis A and dysentery.
During the Movement Control Order which began in March 2020, people started to cook at home more often, requiring them to buy more raw ingredients from the market. Delivery services also increased greatly. Hence, it is crucial to be mindful about food safety while shopping.
From farms and factories…
Food safety starts during food production, in farms and factories, before the produce and products enter the market. From the legal perspective, Malaysia has the Food Act 1983 and Food Regulations 1985 to regulate food production and trade.
Comprehensive local and international standards, such as ISO 22000 (international food safety standard), MyGAP (Malaysian Good Agricultural Practice), GMP (Good Manufacturing Practice), HACCP (Hazard Analysis and Critical Control Point) and MeSTI (Makanan Selamat Tanggungjawab Industri, Food Safety is Responsibility of the Industry Certification Scheme) are also implemented to ensure and control food safety and quality during the various stages of production.
…to carts and baskets
Most consumers do not have control on food production, but we can control our purchasing habits at the market. Here are some tips to ensure safe food purchasing:
Prioritise hygiene. Firstly, choose a clean market to do your shopping. Do regularly wash your reusable shopping bags. It is also a good practice to sanitise your shopping cart or basket.
Inspect the packaging. Make sure there are no holes or tears. Avoid dented, rusted or bloated packaging. Check if the safety seals are intact.
Check the date. A product should not be sold or consumed after it has passed its "expiry" or "use by" date, even if it still looks edible. On the other hand, a product will remain at its best quality until its "best before" date and can still be consumed after that, if it has not spoilt.
Trace product origin. Ensure that the addresses of manufacturer and distributor are indicated on the packaging so you can trace the origin of the product. Some products have QR codes to trace their original sources, as well as points of production and distribution.
Verify product authenticity. Be alert if there are any cases of counterfeit products. Do your research and check for signs of authenticity on the packaging as informed by the original manufacturers.
Pick items in order. This is where a shopping list comes in handy. For your weekly grocery trips, it would be ideal to pick non-perishable and dry items first. Get refrigerated or frozen items and fresh produce towards the end. Place fruits and veggies on top of the cart.
Separate food types. Put frozen foods together to keep cool longer. Keep meat, poultry and seafood in plastic bags/containers to prevent water from leaking onto other items. Separate them from veggies, fruits and other foods.
Bring home quickly. Perishable foods should not be out of refrigeration for more than 2 hours (or 1 hour in hot weather). Use a cooler box if you have to go somewhere else after grocery shopping. On a hot day, put the food in the car, instead of the boot.
Food & grocery delivery
Choose restaurants that you are sure of its quality and hygiene, e.g. restaurants you have frequented before.
It's better if the restaurant has BeSS (Bersih, Selamat dan Sihat, Clean, Safe and Healthy) certification. Ask or check online before ordering.
Good food premises will attach a ticket to inform when the food was prepared. Discard food if it was in transit for more than 4 hours.
Check the food or product packaging for any damages or contamination when receiving the order.
Do not accept food or groceries that look or smell bad upon receipt. Inform the premise about this.
Every year, foodborne diseases cause millions to fall ill and many to die, with a majority of victims being children. These diseases lead to significant disruptions in life, especially to vulnerable groups such as infants, young children, the elderly and people with chronic disease or compromised immunity. Hence, it is important to prevent foodborne diseases by practising good hygiene and taking precautionary measures as outlined above.
An educational collaboration with Nutrition Society of Malaysia.