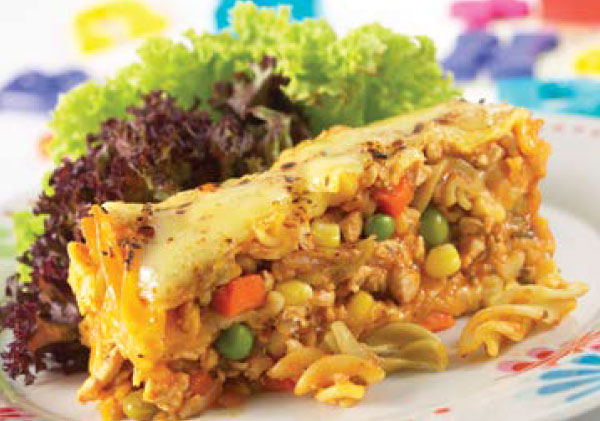 Ingredients
(Serves 5)
200 g (¾ packet) spiral pasta cooked and drained
250 g (1 cups) chicken meat, chopped
220 g (1 cup) mixed vegetables
60 g (1 cup) spinach, chopped
250 ml (1 cup) pasta sauce
120 g (1 cup) Mozarella cheese, grated
10 g (2 clove) garlic, chopped
30 ml (2 tbsp) vegetable oil
Salt to taste
Fresh chopped oregano to taste
Method
Sauté garlic in oil until fragrant.
Add pasta sauce and chicken. Stir fry until the chicken is tender. Add mixed vegetables and stir fry until slightly cooked. Add spinach and stir fry slightly. Finally add cooked pasta. Mix ingredients well. Turn off the heat.
Pour ½ of the cooked ingredients into a heat-proof dish and cover with grated mozzarella cheese.
Pour remaining ingredients and followed by top layer of grated cheese.
Bake in a preheated oven at 200°C for 25-30 minutes or until the cheese is melted and turns golden brown.
Nutrient content per serving:
| | |
| --- | --- |
| Calorie | 371 kcal |
| Carbohydrate | 41.2 g |
| Protein | 23.4 g |
| Fat | 12.5 g |
Recipes courtesy of "Nutritionists' Choice Cookbook, Vol 1: Healthy Recipes for Your Little Ones" by Nutrition Society of Malaysia. To purchase this recipe book which includes 50 recipes, please email: [email protected]
An educational collaboration with Nutrition Society of Malaysia.