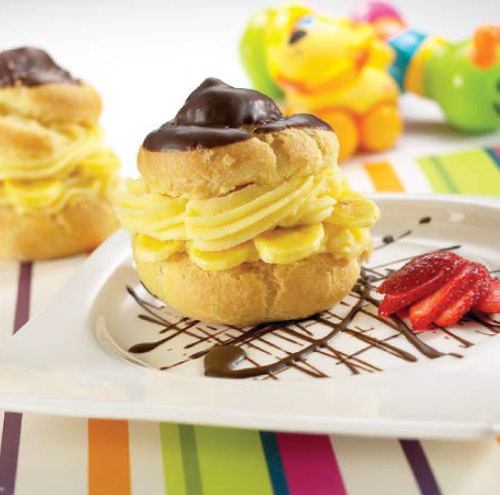 Ingredients:
(16 puffs)
Puffs:
3 eggs (large)
200 g (1½ cup) wheat flour
250 ml (1 cup) water
100 g (²⁄5 cup) butter
Cooking chocolates for garnishing
Fillings:
200 g (2 medium-sized) bananas, sliced
80 g (½ cup) sugar
45 g (3 tbsp) butter
100 ml (½ cup) evaporated milk
45 g (3 tbsp) custard flour, mix with 50 ml
(3 tbsp) water
125 ml (½ cup) water
---
Method:
To make puff
Boil water with butter for 1 minute.
Add wheat flour and mix thoroughly to form dough. Turn off the heat and allow the dough to cool.
Beat the dough using a beater/hand mixer and add beaten eggs gradually a bit at a time. Beat until the mixture is smooth.
Put the mixture into piping bag with round noozle.
Pipe the mixture with desirable size on the baking tray.
Bake 180⁰C, about double in size. Let cool for a while.
Cut in the middle, crosswise, using sharp serrated end knife. Pipe some cream filling and arrange the sliced bananas on top before placing back the other half of the puff.
Garnish with some cooking chocolate on top.
To make the cream fillings
Add sugar, butter, evaporated milk and custard mixed with water in a pot. Stir until well blended.
On a slow fire, heat up the mixture, stirring regularly with a wire whisk until thickened.
---
Nutrient content per serving:
| | |
| --- | --- |
| Calorie | 151 kcal |
| Carbohydrate | 15.1 g |
| Protein | 2.7 g |
| Fat | 8.9 g |
An educational collaboration with Nutrition Society of Malaysia
Recipes courtesy of 'Nutritionists' Choice Cookbook, Volume 1: Healthy Recipes for Your Little Ones' by Nutrition Society of Malaysia. To purchase this recipe book which includes over 60 recipes, please email:
[email protected]