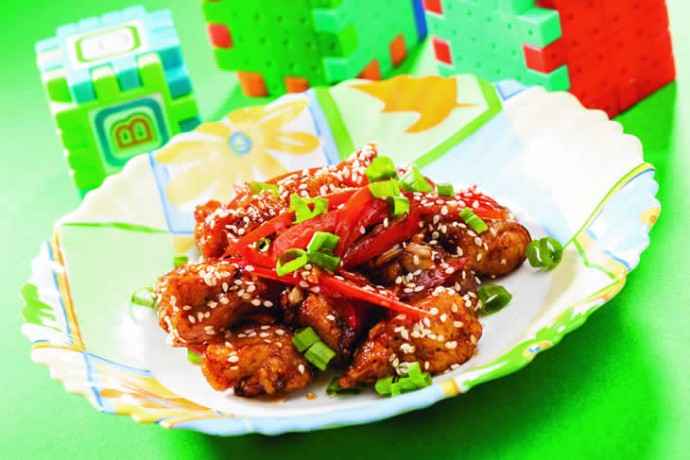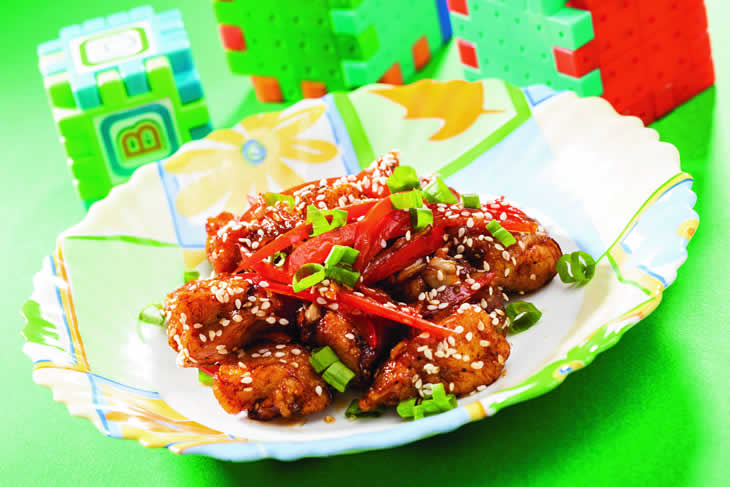 Ingredients:
(Serves 4-5)
400 g (2 pieces) chicken breast, skin removed and cut into bite pieces
30 ml (2 tbsp) tomato ketchup
30 ml (2 tbsp) honey
15ml (1 tbsp) oyster sauce
15 ml (1 tbsp) vinegar
60 g (1 whole) red capsicum, thinly sliced
26 g (1 whole) onion, sliced thinly
10 g (2 cloves) garlic, crushed
10 g (1/2 inch) ginger, grated
3 tbsp soya sauce
20 g (2 tbsp) roasted sesame seeds
15 ml (1 tbsp) sesame oil
Corn flour just enough to coat the chicken
Salt and black pepper to taste
2 stalks spring onions, chopped
---
Method:
Mix salt and pepper in a bowl. Put in chicken pieces and coat evenly. Cover and marinate for about 30 minutes in the refrigerator.
Lightly coat the chicken with corn flour and shallow fry until cooked and golden brown. Take out from the wok and put on a kitchen towel to absorb off excess oil.
Heat up a wok with sesame oil. Sauté onion, garlic and ginger until fragrant. Add in oyster sauce, ketchup, honey, vinegar and capsicum over medium heat. Add some water and bring to boil while stirring. Simmer until sauce slightly thickens.
In the wok or in a serving dish, coat chicken with the sauce and garnish with spring onions and sesame seeds.
---
Nutrient content per serving:
| | |
| --- | --- |
| Calorie | 218 kcal |
| Carbohydrate | 6.6 g |
| Fat | 10.1 g |
| Protein | 25.1 g |
---
Recipes courtesy of 'Buku Masakan Pilihan Pakar Pemakanan, Jilid 2: Resipi untuk Seisi Keluarga' by Nutrition Society of Malaysia. To purchase this recipe book which includes over 50 recipes, please email: [email protected]