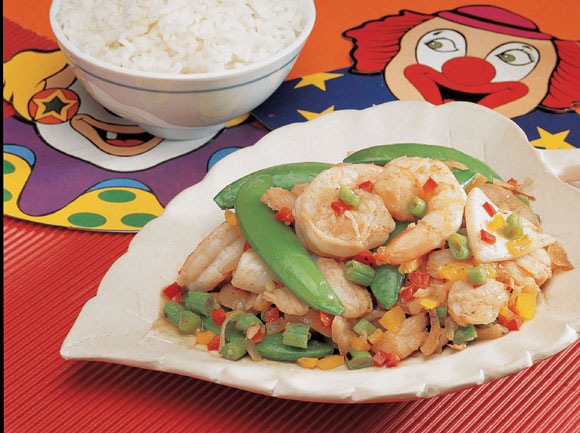 Ingredients:
(Serves 6)
140g (2) squids, heads removed

10g (1 tablespoon) vegetable oil

100g (1) onion, sliced

30g (6 pips) garlic, crushed

5g (1 cm) fresh ginger, chopped finely

50g (1⁄2) red capsicum, chopped

50g (1⁄2) yellow or green capsicum, chopped

15ml (1 tablespoon) lime juice

Light soya sauce to taste

60ml (1⁄4 cup) water

100g (1⁄2 cup) medium sized prawns, shelled and deveined

50g (1⁄4 cup) fish fillet

90g (3⁄4 cup) long beans, cut into 2.5 cm pieces

50g (1⁄2 cup) snow peas
---
Method:
Make a single cut down the length of each squid and open it up. Using a sharp knife, cut parallel lines down the length of the squid (make sure not to cut right through the flesh). Make more cuts in the opposite direction to form a diamond pattern.
Cut each piece into 21⁄2 cm pieces. Set aside.
Heat oil in a wok. Add onion, ginger, garlic and stir fry for 2 minutes. Add red and yellow/green capsicums, lime juice and light soya sauce, and stir fry for another 3 minutes. Add in water.
Add squid, prawns and fish fillets, stir fry for 5 minutes or until the colour of the prawns change.
Add long beans and snow peas. Continue to stir-fry until the long beans and snow peas are cooked.
Serve with white rice.
---
Nutrient content per serving
| | |
| --- | --- |
| Energy | : 80 kcal |
| Calcium | : 32 mg |
| Protein | : 8.8 g |
| Iron | : 1.7 mg |
| Fat | : 2.7 g |