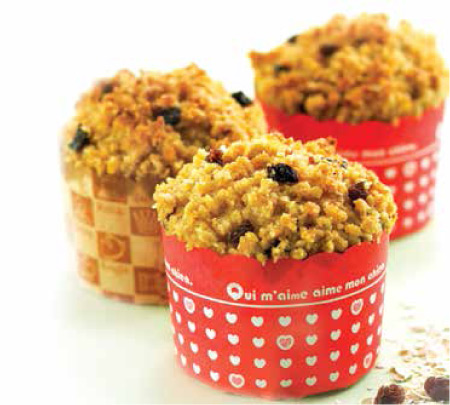 Ingredients
125 g (1 cup) oatmeal

90 g (3⁄4 cup) plain flour

110 g (3⁄4 cup) wholemeal flour

11⁄2 tsp baking powder

1⁄2 tsp baking soda

1 g (1⁄4 tsp) salt

130 g (3⁄4 cup) raisins

65 g (1⁄4 cup) unsalted butter

85 g (1⁄2 cup) brown sugar

2 large eggs, lightly beaten

300 ml plain yogurt or reduced fat milk

10 ml (1 tbsp) cooking oil for greasing muffin pan
---
Method
Grease a 12-cup muffin pan with oil, or line with muffin paper liners.
Preheat oven 180°C.
Combine plain flour, oatmeal, wholemeal flour, baking powder, baking soda and salt together in a bowl. Mix well.
Add in raisins and set aside.
Cream brown sugar and butter until light and fluffy. Then add eggs one at a time. Continue to beat until the butter batter looks smooth. Pour in yogurt or reduced fat milk and stir together.
Add in half of the flour mixture and stir. Pour in the other half and gently stir together until just combined.
Do not over-mix the batter; it is okay if the batter looks a little lumpy. Over mixing will cause the muffins to become chewy.
Pour into the greased muffin pan and bake for 20 minutes or until a toothpick inserted into the centre comes out clean.
Let stand for three minutes and transfer to cooling rack to cool.
Note:
You may add any topping to the muffins like nuts and bread crumbs, to add more flavour.
---
Nutrient content per serving
| | |
| --- | --- |
| Calories | : 221 kcal |
| Carbohydrate | : 35.0 g |
| Protein | : 5.8 g |
| Fat | : 6.6 g |