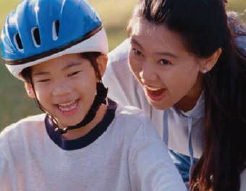 In their eagerness to have fun, preschoolers plunge into activities without realising the risks and dangers. As parents, remember that your children must never be left on their own. Always supervise them and leave them in the care of a responsible adult if you are not around. Teach your children rules for safe play. Stop any rough or unsafe play, and make sure the older children set a good example for the younger ones. It is also important to check the environment for hazards before you allow your children to play. This article highlights the common dangers and preventive measures you can take at home, in preschool and play areas outdoors.
At Home
Install topple-proof furniture and use corner protectors over sharp edges of your furniture. Lock your windows and prevent access to balconies especially in high-rise buildings.
Label all chemicals and medicines and keep them locked in a child-resistant cupboard. Do not reuse soft drink containers to store hazardous liquids.
Keep your children away from all hot appliances.
Children should not run and play in the kitchen or any area where there is outdoor cooking.
Keep knives and sharp utensils out of reach.
To prevent choking, make sure your children sit down when eating and never give nuts or small sweets to children below 5 years of age.
Outdoors
Do not let your child play by the roadside or in carparks with moving vehicles.
Look for playgrounds with equipment less than 1.5 meters high to prevent falls and those with soft flooring or soft rubber which are safer for children.
Always watch your child, especially when he is trying something new at the playground.
Children should never be left alone by the poolside or beach, or allowed to swim in a pool or in the sea without adult supervision.
Preschool
Send your child to a preschool with a sufficient number of staff to supervise the children.
Preschool furniture should have rounded corners and not be too light (eg plastic chairs) as these are unsafe.
Sinks and toilets must be child-sized.
Grounds should be properly fenced and locked to keep intruders out. Toilet facilities and play areas should be within these boundaries.
In The Car, On The Road
Strap your child into a safety seat or booster seat each time you travel, no matter how short the trip.
Activate child-proof locks to prevent your child from opening the door while you are driving.
Never leave your child unattended in the car.

Teach your children road basic safety rules and always hold their hand when walking on the sidewalk, crossing the road or even in a car parking lot. Walk with the child away from traffic.

In the event of a fall, look out for the following indications of a possible serious injury. Get medical help immediately if your child has any of the following:

Pain, swelling, deformity or inability to move any limb
Limping or inability to stand up and walk
Loss of consciousness, drowsiness, headache or vomiting
Irritability, slurred speech
Deep cuts that do not stop bleeding
Open wounds that are heavily contaminated with soil or other fragments
Stranger Danger!
As your child grows up, you will not always be at her side. Teach her to always stay in a safe area while waiting for you. Instruct her not to talk to strangers or to leave with anyone she does not know.