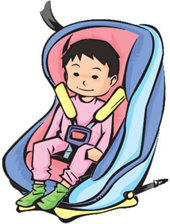 Did you know that 37% of road traffic injuries involving young passengers aged 19 years and below result in death? Appropriate restraints that secure your child in his seat may save your child's life and prevent serious injury in the event of a crash.
Put babies and young children in car safety seats suitable for their age and weight.
Your child should ride rear-facing in the backseat until he is at least 1 year old and weighs at least 9 kg. Beyond that, he can ride forward facing in the backseat.
When your child outgrows his car safety seat but is still too small to use an adult safety belt, use a booster seat.
A booster seat raises your child so that the lap belt lies low across his upper thighs and hip bones (not across his stomach) while the shoulder strap crosses the middle of his chest and shoulder.
While children aged 10 and above (weighing over 35kg or is 145cm in height) can stop using the booster seat, they must remain in the backseat with a seatbelt until they are at least 12 years old.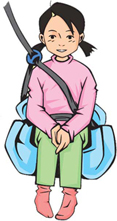 Children above 12 years old can sit in the front seat. The seatbelt must be worn always.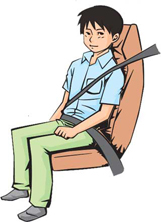 TIPS FOR A SAFE TRIP
Securing your child in a safety seat or booster seat will go a long way towards ensuring her safety, but that is only one factor. The other factor is you:
Be a good example to your child: use your seatbelt at all times.
Do not speed, and obey traffic rules when you drive.
Make sure every passenger is safely secured in their seat before you start your journey.
Activate the child locks to prevent your child from opening the door while the car is moving.
Keep all windows and doors locked during your journey.
Never let your child stick his head out of the window when travelling.
Never leave your child alone in the car.