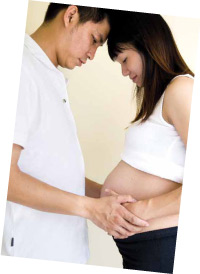 As a new dad, you may feel unprepared for the arrival of your baby. The following tips are intended to help you minimise the pre-baby jitters in order to get through it with the minimum amount of fuss.
Tips for fathers-to-be:
Keep yourself in the loop.

Active participation with your wife's pre-natal checkups keep you updated with her pregnancy progress and helps connect you with each other.

Be attentive to the "new" mother.

Not every pregnancy is the same, so be sensitive to your wife's needs and moods. Keep in mind that she might be having trouble adjusting to her "new" self too, so endure these changes in whatever way that works best for the both of you. Make sure you discuss how you can help throughout her pregnancy and delivery.

Prepare the nest.

An expectant father can show his involvement by engaging in material preparation for your baby's arrival. There are many things to be purchased to accommodate your growing family like clothing for mother and baby, baby crib, stroller, baby seat for the car, feeding bottles, etc. Take advantage of your couple time by shopping together with your wife as you will have less time alone as a couple once the baby is born.

Discuss your concerns.

You don't need to look very far for support; talk to your wife about anything that you are worried about. You may also want to discuss your anxiety with other experienced dads. Don't be afraid to ask any questions if you have doubts.

Take care of your health.

You will need to handle many new challenges: your baby's delivery, mother and baby's home-coming, and post-partum care for your wife. That's not including the time you'll need to spend caring for your child as he or she grows up. So, it's in everyone's interest for you to stay healthy. Start eating right and make sure you get enough exercise and rest.

Support each other.

Parenting should be handled together, so you will need to be mutually supportive of each other. Try to help out your wife as much as you can, and above all, be sure to communicate your expectations with each other.

Take time to discuss money matters.

If possible, discuss financial issues and negotiate each other's roles in parenting beforehand, preferably before your baby arrives, in order to avoid stress or conflicts later.

Spend quality time together.

Pregnancy can bring you closer, so make the most of this opportunity by talking with each other about your feelings, insecurities, worries, joys, and everything else you want to share. You will need to support each other so take advantage of this special time to bond and strengthen your relationship.
The last thing to remember is – embrace your fatherhood with a positive outlook as you're about to embark upon the most exciting and rewarding experience of your life.