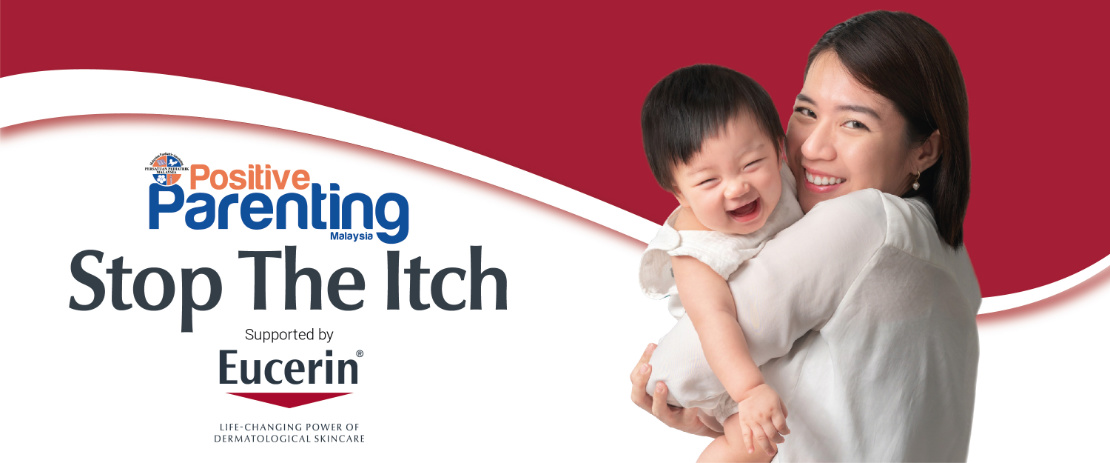 Frequently Asked Questions
What is Stop the Itch Starter Kit?
All parents with children suffering from eczema know how the skin condition can significantly impact the quality of their child's life. Realising this fact, Positive Parenting with the support from Eucerin, has launched "Stop the Itch", an eczema educational campaign that aims to create more awareness about eczema among parents and the community, and to help provide relief to children suffering from eczema.
"Stop the Itch" is offering an all-in-one "Starter Kit" for eczema relief in children, which can be redeemed by parents from the participating doctors listed below. The Starter Kit contains a Positive Parenting guidebook, a mini booklet on eczema management and skin care product samples from Eucerin.
Who is eligible to redeem the Stop the Itch Starter Kit?
Any parents of children with eczema or other skin problems.
How can I redeem the Stop the Itch Starter Kit?
Visit any of the participating doctors at the listed clinics/hospitals below.
Ask the nurse at the front counter for the Stop the Itch Starter Kit.
Scan the QR code and fill out the information.
Once completed, collect the Starter Kit from the nurse.
What will I get in the Stop the Itch Starter Kit?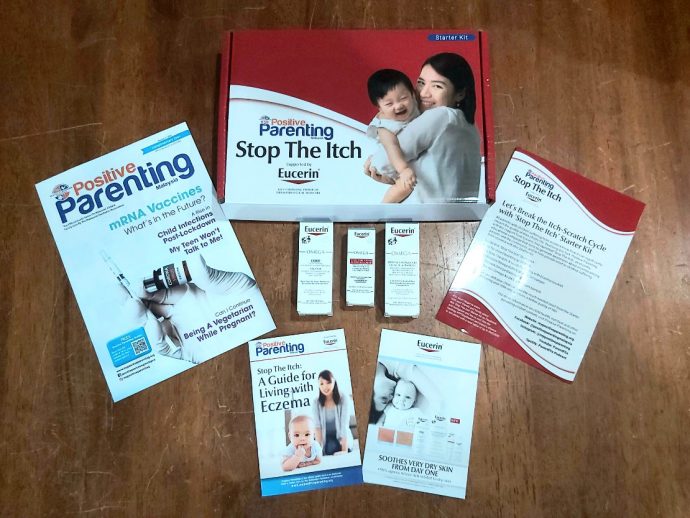 1x Positive Parenting guidebook
1x Stop the Itch: A Guide for Living with Eczema booklet
1x Eucerin Omega Bath & Shower Oil sample
1x Eucerin Omega Balm sample
1x Eucerin Omega Acute Care Cream sample
Where can I redeem the Stop the Itch Starter Kit?
Redeem the Starter Kit from participating doctors listed below (the list will be updated from time to time):
Klang Valley
ParkCity Medical Centre, KL
Dr Rajini Sarvananthan
Prince Court Medical Centre, KL
Dr Sabeera Begum Kader Ibrahim
KPJ Tawakkal KL Specialist Hospital
Dr Faisal Mohd Fadzli
KPJ Sentosa KL Specialist Hospital
Dr Sharifah Aida Alhabshi
Pantai Hospital Bangsar
Dr Azam Mohd Nor
Klinik Kanak-Kanak TTDI, KL
Dr Ghulam Altaf Hussain
KPJ Ampang Puteri Specialist Hospital
Dr Mohd Nasir Hassan
Pantai Hospital Cheras
Dr Wong Chee Yeng
Klinik Pakar Kanak-Kanak Kepong
Dr Chen Biow
KPJ Damansara Specialist Hospital, Damansara Utama
Dato' Dr Musa Mohd Nordin
KPJ Damansara Specialist Hospital 2, Bukit Lanjan
Dr Shalini Shanmugam
ABC Children Specialist Clinic, Bandar Utama
Dr Leong Kin Fon
Klinik Pakar Kanak-Kanak Junina, Petaling Jaya
Dr Yong Junina Binti Fadzil
Columbia Asia Hospital, Petaling Jaya
Dr Jayagauri Balakrishnan
Chan Baby & Child Clinic, Petaling Jaya
Dr Chan Wai Yue
Klinik Pakar Kanak-Kanak Deng, Subang Jaya
Dr Cheng Teik Deng
QHC Medical Centre, Subang Jaya
Dr Vasuky Dasaratha Raman
Pixie's Baby & Child Clinic, Subang Jaya
Dr Low Pek See
Subang Jaya Medical Centre (SJMC)
Dr Jenny Tan Yen Ling
Dr Khoo Phaik Choo
Dr Ali Azman Minhaj
Sunway Medical Centre, Bandar Sunway
Dr Heah Sheau Szu
Dr Nazrul Neezam Nordin
Dr Norzila Zainuddin
Dr Norazlin Kamal Nor
Ara Damansara Medical Centre
Dr Rakhee Yadav Hematram
KPJ Selangor Medical Centre, Shah Alam
Datuk Dr Zulkifli Ismail
Dr Ling Shiang Yih
Dr Yasmin Mohd Yusof
Avisena Specialist Hospital, Shah Alam
Dr Fadzillah Hj Ghazali
Klinik Pakar Kanak-Kanak Denai Alam, Shah Alam
Dr Nazatul Haslina Ramly
Penang
Loh Guan Lye Specialists Centre, Penang
Dato' Dr Siti Khadijah Tun Hamdan
Island Hospital, Penang
Dr Koh Chong Tuan
Dr Dan Giap Liang
Seremban
| | |
| --- | --- |
| Columbia Asia Hospital, Seremban | Dr Lee Kok Fung |
P/s: Don't forget to share with your friends and family about this Stop the Itch Starter Kit on Facebook and Instagram
and tag us too! Use the hashtag #PPStoptheItch and stand a chance to win prizes with a total value of up to RM3,000!