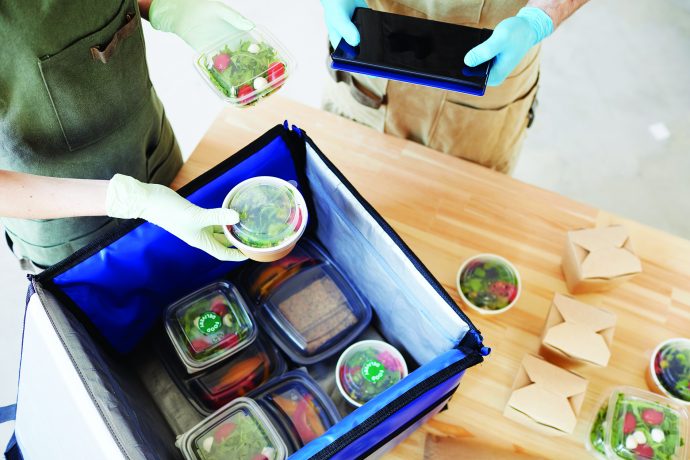 The multiple movement control orders which started in March of 2020 have seen the mushrooming of food industries and delivery services. Home-based food businesses became a source of income for many, as was delivery services.
However, many of those involved in this industry may not be aware of the responsibilities that accompany the job of a food handler, be it the cook, the one who packs, distributes, or delivers. People in the food industry, the food handlers, play an important role in preventing the spread of typhoid.
As consumers, we look forward to tasty, well-packed food at reasonable prices from the sellers and timely delivery with minimal to no spillages from the delivery service. Foods that have gone bad, or contain strands of hair, would normally find their way to social media with bad reviews. As such, food handlers must ensure that proper SOPs are adhered to in ensuring that their premises are clean, and raw materials are stored accordingly.
In addition to these measures, however, food handlers are also mandated by law to prevent typhoid, through routine vaccination. The typhoid vaccine, in addition to proper training and medical checkups, go a long way in ensuring that the food that is delivered to us is clean and will not make us sick.
Typhoid facts
Caused by Salmonella enterica serotype typhi (S. typhi) bacteria
Contracted by consuming contaminated food or water
May spread through stool of infected individuals (patients/carriers)
Symptoms: high fever, headaches, stomach pain, constipation or diarrhoea, poor appetite, lethargy
Serious complications: intestinal perforation, gastrointestinal bleeding, encephalopathy, death
Food Hygiene Regulations 2009
Regulation 31(1) states that a food handler shall be medically examined and vaccinated by a registered medical practitioner.
Any food handler who fails to comply shall be liable to a fine not more than RM10,000 or to a jail term not more than 2 years.
"Food handler" includes anyone who:
o Is directly involved in the preparation of food
o Comes into contact with food or food contact surfaces
o Handles packaged or unpackaged food, or appliances, in any food premises
Food handlers: who are they?
 Cook/Chef
Kitchen staff
Waiter
Cleaner
Packager
Cashier
Delivery person
Why vaccinate food handlers?
Some people who contract typhoid (up to 5%) turn into long-term carriers after the illness has subsided and may inadvertently become the source of new outbreaks for many years after they are infected. These carriers function as a reservoir of the pathogen in endemic areas, including Malaysia.
Since food and beverages are the typical routes of typhoid transmission, people working in the food industry, particularly food handlers, play a critical role when it comes to assuring public health and avoiding typhoid outbreaks. Vaccinating food handlers will prevent them from becoming unwitting carriers and spreading the pathogen to customers.
The growing resistance of S. typhi against antibiotics has also made treatment more challenging and expensive, thus underscoring the importance of vaccination in the fight against typhoid.
Getting the shot
Two types of typhoid vaccine are available:
inactivated typhoid vaccine (Vi-polysaccharide vaccine), which is administered as an injection
live typhoid vaccine (Ty21a vaccine), which is administered orally
Revaccination is recommended every 3 years for Vi-polysaccharide vaccine, and every 3-7 years for Ty21a vaccine. Food handlers can get vaccinated at most government and private clinics and hospitals, as well as at some local municipal councils. For example, the Kuala Lumpur City Hall (DBKL) offers a single dose of typhoid vaccine at RM60 for Malaysian citizens. It comes with a vaccination card, which is valid for 3 years.
Authorities have been reminding food business operators, including hawkers and food sellers at bazaars, night markets and home-based businesses to comply with these regulations. In fact, most local authorities require all food handlers to get the typhoid vaccine before their business licenses can be renewed. However, awareness and implementation may still be lacking, especially among smaller food businesses.
To sustain the effort in preventing typhoid outbreaks, food handlers, even those based at home, have to be aware of how vital their role is as frontliners against typhoid. This is the main reason why they are the only group which is required by law to be typhoid-vaccinated. It's not just about serving delicious food to customers, but also ensuring safe and clean food for everyone.
The Food Safety and Quality Division under MOH has provided a food safety guideline for food products sold online here.
An educational contribution by Malaysian Paediatric Association.