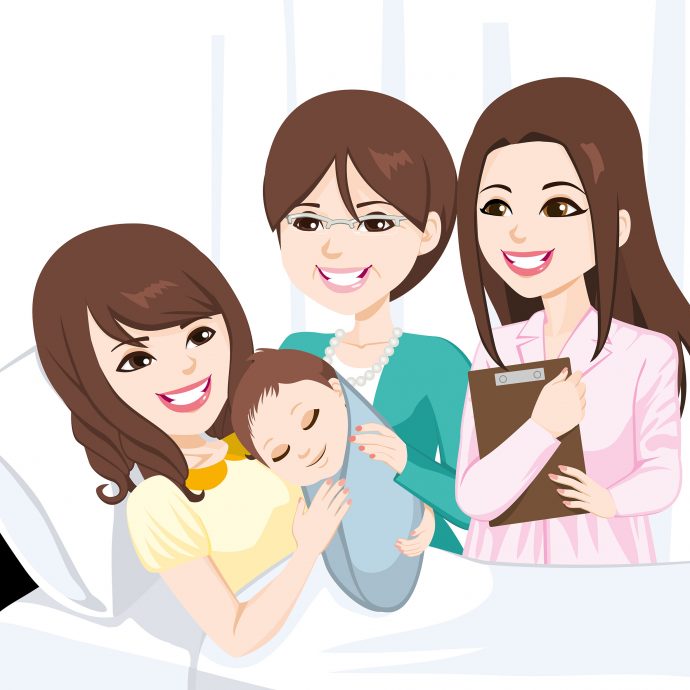 Concerns revolving the emergence of confinement centres for mums in Malaysia were looked at in Positive Parenting Issue 2/2019. And here we continue to broach the subject, as to what one should look for when choosing a confinement centre.
After giving birth, mothers may choose to go on confinement or not. It is a traditional practice that can help mothers rest and recover physically and emotionally, as well as prepare them for the lifelong journey of motherhood. Specific practices depend on one's culture, but generally, mothers are advised to stay indoors for the whole period of confinement and to follow certain dietary requirements.
Nowadays, mothers have the option to undergo confinement at private confinement centres, instead of at home with a confinement lady. By enrolling into a confinement centre, there will always be someone available to look after and help you around the clock. You can also meet and spend time with other new mothers, making confinement a less isolating experience. Most confinement centres also provide classes to equip mums with baby-care basics.
However, as mentioned in the previous article, there are concerns regarding the legality of confinement centres and the lack of regulation. Plus, decent confinement centres are still the more expensive option compared with confinement ladies. And not all confinement centres have the same policies, so it would be wise to look into what each centre offers. Also, do note centres that operate in private residential houses may not be an ideal choice as they may not fulfil certain requirements to operate as a healthcare facility.
What to check?
If you decide to spend your confinement at a centre, there are certain things to check before signing up.
The package
A standard confinement package includes accommodation, meals, support staff and laundry service.
Check what type of accommodation will be arranged for you and your baby, and if you will get a private or shared room.
Does the package include confinement products, baby items and other extras such as classes or massage sessions? If not, be ready to pay extra or prepare the things you may need ahead of time so you don't incur unwanted costs.
The staff
Support staffs, including confinement ladies, nurses and midwives, are usually available 24 hours a day at the centre.
Also find out if there are any in-house paediatricians or obstetricians.
The chef and kitchen crew are trained in food preparation and hygiene.
The person in charge of any extra classes or sessions is a qualified professional.
Note: Currently, confinement centres are not registered under the Private Healthcare Facilities and Services Act (PHFSA) 1998 and only recognised as businesses. Parents need to carefully review their contracts before checking into a confinement centre.
The policy
Make sure the centre supports and prioritises breastfeeding. They should not pressure mothers with formula milk feeding.
Are husbands are allowed to stay with their wife or not? If not, check the visiting hours.
Check if the centre has any particular way of caring for babies. For example, are babies given pacifiers? Is there a set feeding schedule? See if you are fine with the arrangement and if the methods are flexible and open to change.
Find out the centre's policy on observing specific confinement practices that might be outdated.
The centre should provide an agreement that covers any case of dispute or mishap. Legally, a confinement centre is only considered as a generic business, similar to a wellness or spa centre. It is not regulated by any specific law such as the Child Care Act 1984, which covers child care centres.
Check any claims made by the centre, e.g. sterilised baby room (how sterile?), certified personnel (certified by whom?), etc.
The facility
The centre should be able to manage any emergencies.
They are well-equipped to meet various needs of the mothers. However, even if the centre and its staffs are qualified, they are not allowed to handle medical equipment if they are not registered under the PHFSA 1998.
Find out how many occupants are usually accommodated at the same time and see if you are comfortable with the number.
The government has yet to come up with specific guidelines and regulations for confinement centres. If you are planning to spend your post-partum and confinement period at a confinement centre, it is advisable to do some careful research before making a decision. The Ministry of Health also provides post-natal care and home visits by nurses to monitor mothers' and babies' statuses.
To read the earlier article Concerns with Confinement Centres (Positive Parenting Issue 2/2019), click HERE.
An educational collaboration with Obstetrical and Gynaecological Society of Malaysia.