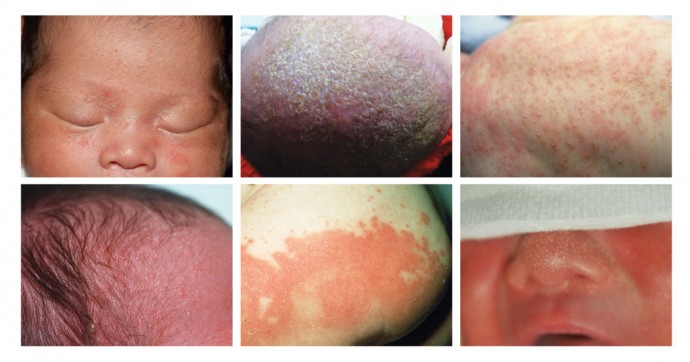 The skin of newborns (age 0-30 days) undergoes variety of changes in the first month of life. Their skin is more sensitive than adults, making them prone to develop different types of rashes. Most newborn rashes are normal physiological adaptations of the delicate newborn skin to new environments. Fortunately, they are usually self-limiting or harmless in nature and do not require any specific treatment. However, if the condition worsens or other serious symptoms appear, like fever or refusal of feeding, consult your paediatrician for a check-up.
Common rashes in newborn
Type of rash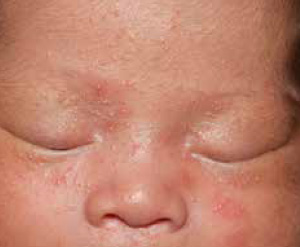 Baby acne (neonatal acne)
Babies develop small white/red pimples on nose, cheek, and forehead. These pimples may appear at birth or within a month of life and usually clear up without any treatment. These happen due to the effect of hormones transmitted from mother at the end of pregnancy.
Management: Wash face with water and mild baby soap. Apply gentle moisturisers. Do not use over-the-counter acne medicines or oily lotions.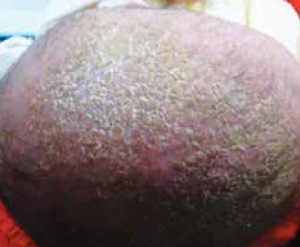 Cradle cap (seborrheic dermatitis)
Babies develop yellowish, greasy, flaky, dry skins on scalp, neck, ears, eyebrows, armpits, and sometimes in diaper area, as diaper rash. Cradle cap usually starts to occur as early as 2 weeks of life and, resolves latest by 1 year of life. It is not caused by allergies or poor hygiene. Some may develop eczema over the skin folds.
Management: Wash hair with water and mild baby shampoo. May use mild baby oil to soak the scales before gently brushing it off while washing.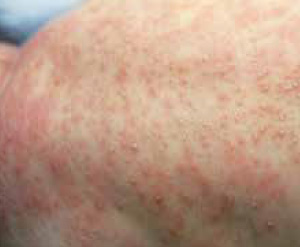 Erythema toxicum
These are small red blotches that appear mainly on the body, face and limbs. They often appear at 2-5 days after birth and go away in a couple of weeks. The cause is unknown. These rashes do not bother the baby.
Management: No specific treatment is needed. Gentle wash with mild baby soap may be helpful.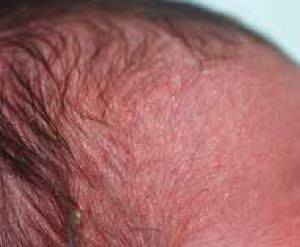 Heat rash (miliaria)
Heat rashes are tiny red bumps appearing on any parts of the body, usually over the back, head and neck area. They occur due to partial blockage of sweat glands. Hot and humid environment or excess clothing may aggravate heat rash.
Management: Keep the affected area dry. Ensure baby is in cool environment. Put on light breathable clothing.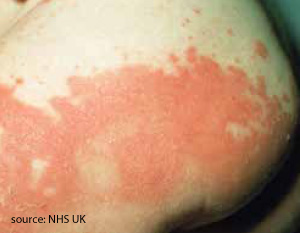 Diaper rash
These are inflamed red rash in the diaper area and commonly occur in babies under one year or those on diapers. It is caused by prolonged exposure of the diaper area to the baby's urine/stool or yeast/bacterial infection.
Management: Keep the diaper area dry and clean by changing diaper frequently. Clean with water, pat dry and apply barrier ointment on every diaper change. Consult your doctor if rash persists. Doctor may prescribe antifungal or antibiotic cream in the presence of any infection.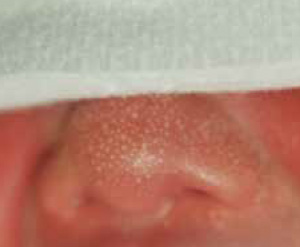 Neonatal sebaceous hyperplasia
These are tiny yellow papules or spots on the nose, cheeks and forehead. They occur due to overgrowth of sebaceous glands (sebum secreting glands), which are probably induced by maternal hormones. Usually appears in the first week of life.
Management: No treatment is needed. It will resolve within a few weeks.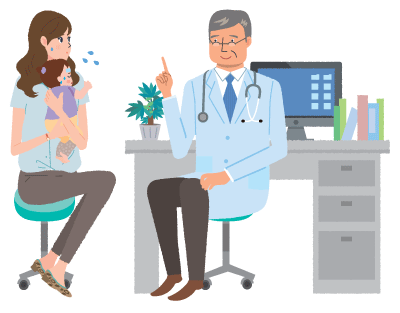 When should you be concerned?
Rashes above are usually harmless and will resolve spontaneously over few weeks without any treatment. However, if any of the conditions become extensive or severe and prolonged, consult your child's paediatrician for a proper diagnosis and treatment.
Other skin rashes that may need you to consult your child's paediatrician include hives or wheals on the skin, which may indicate an allergic response especially to food. Your doctor can help to identify the allergens. Also, rashes accompanied with other symptoms such as fever, pain, poor feeding or irritability, may be sign of skin infections like impetigo or even other serious or fatal infection like meningitis.
An educational contribution by Malaysian Paediatric Association.