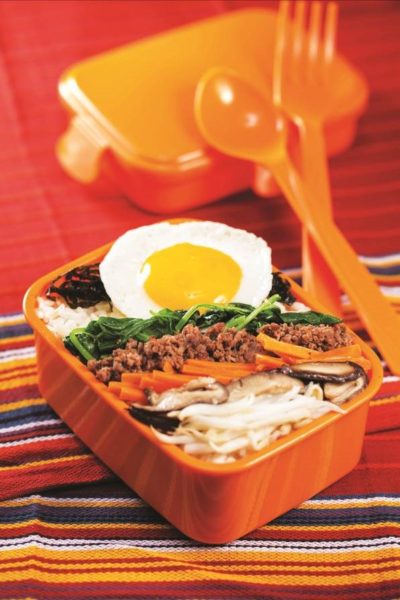 Ingredients
(Suggested number of servings: 5)
123 g (1/2 cup) lean beef
108 g (2 cup) spinach
105 g (1 cup) bean sprouts
22 g (10 pieces) dried shiitake mushrooms
108 g (1 whole) carrot
279 g (1 ½ cup) brown rice
30 ml (2 tablespoons) tomato or chili sauce
5 g (1 clove) garlic
30 ml (2 tablespoons) soy sauce
15 ml (1 tablespoon) sesame oil
5 ml (1 teaspoon) honey
15 ml (1 tablespoon) oil
4 pieces dried seaweed
265 g (5 whole) eggs
A pinch of salt and pepper
Preparation
Wash the rice and cook in a rice cooker.
Mince the beef using a food processor.
Blanch the spinach and bean sprouts separately.
Peel the carrot and slice thinly.
Chop the garlic into small pieces.
Soften the mushrooms by soaking in hot water for 30 minutes.
Drain the water and remove the stems of the soaked mushrooms.
Slice the mushrooms into thin slices.
Let's Cook
Marinate the beef with soy sauce, garlic, sesame oil, honey, pepper and salt in a bowl.
Set aside for 30 minutes.
Stir- fry the beef with a little oil until cooked and set aside.
Repeat step 3 with mushrooms.
Fry the eggs, sunny side up style, 1 at a time.
Put the rice into a bowl and using a food tong, arrange the meat, assorted vegetables, mushrooms and seaweed around the rice with an egg in the centre.
Pour some soy sauce and tomato or chili sauce on top of the rice.
Serve warm.
Nutrient content per serving:
| | |
| --- | --- |
| Calorie | 422 kcal |
| Carbohydrate | 52.5 g |
| Protein | 19.8 g |
| Fat | 14.7 g |
Recipes courtesy of "Junior Chef Cookbook, Vol 1: Let's Play Healthy Cooking" by Nutrition Society of Malaysia. To purchase this recipe book which includes 35 recipes, please email to: [email protected]
An educational collaboration with Nutrition Society of Malaysia.