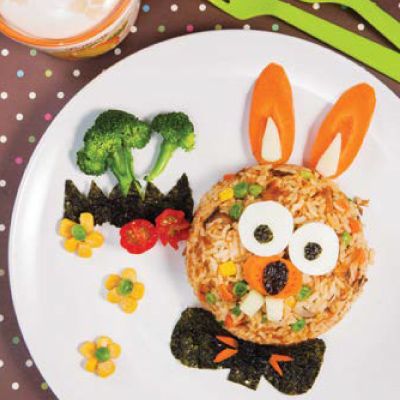 The kitchen is another avenue (or place) of learning and exploring creativity. Your child can learn simple kitchen skills suitable for his age and literally play with his food as he decorates and eats his meal after that. Try the easy and healthy Sardine Fried Rice recipe (with your supervision, of course) which will be fun for this holiday season.
Ingredients
(Serves 3)
186 g (1 cup) brown rice
155 g (1 small can) sardines
15 ml (1 tablespoon) oil
150 g (1 cup) frozen mixed vegetables
13 g (1 whole) small onion
5 g (1 clove) garlic
5 ml (1 teaspoon) soy sauce
3 pieces dried seaweed
A pinch of salt and pepper
Preparation
Wash the rice and cook in a rice cooker.
Drain the sardines, keep the sauce aside, then mash the sardines with a fork.
Chop the onion and garlic into small pieces.
Slice the dried seaweed.
Let's Cook
Fry the onions and garlic with oil until fragrant in a pan.
Pour the sardines into the pan and fry for 2 minutes.
Stir in the frozen mixed vegetables and cook for another 3 minutes.
Add cooked rice and stir well.
Add soy sauce and the remaining sauce from the sardine can.
Add a pinch of salt and pepper.
Continue to stir and cook until rice is dry and fluffy.
Remove from heat, garnish with seaweed and serve immediately on a plate.
Nutrient content per serving:
| | |
| --- | --- |
| Calorie | 372 kcal |
| Carbohydrate | 56.8 g |
| Protein | 14.7 g |
| Fat | 9.6 g |
Recipe courtesy of "Junior Chef Cookbook, Vol 1: Let's Play Healthy Cooking" by Nutrition Society of Malaysia. To purchase this recipe book which includes 35 recipes, please email to: [email protected]
An educational collaboration with Nutrition Society of Malaysia.