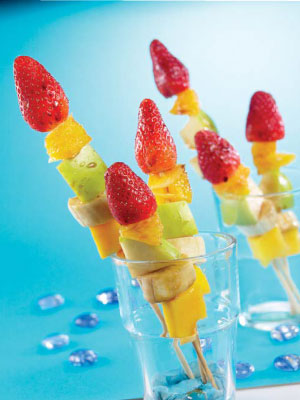 Ingredients
(Serves 5)
10 wooden skewers, soaked for 2-3 minutes
200 g (1 whole) ripe mango, peeled
200 g (2 whole) oranges, peeled
200 g (2 large) red apples, peeled
70 g (10 small) strawberries
20 g (1½ tbsp) margarine
3 ml (½ tsp) lemon juice
80 g (½ cup) honey
250 ml (1 cup) yoghurt or vanilla ice-cream
Method
Cut mango, oranges and apples into 3 cm cubes.
Thread the cut fruits (mango, oranges, red apples, strawberries) on to the skewers and place on the oven tray.
Blend margarine, lemon juice and honey in a saucepan and stir until mixture is smooth.
Coat the fruit well with mixture.
Place skewers on a lightly-greased grill, and grill until warm.
Cool and serve with yoghurt or ice-cream.
Nutrient content per serving:
| | |
| --- | --- |
| Calorie | 187 kcal |
| Carbohydrate | 32.9 g |
| Protein | 4.0 g |
| Fat | 4.4 g |
Recipes courtesy of "Nutritionists' Choice Cookbook, Vol 1: Healthy Recipes for Your Little Ones" by Nutrition Society of Malaysia. To purchase this recipe book which includes 50 recipes, please email: [email protected]
An educational collaboration with Nutrition Society of Malaysia.