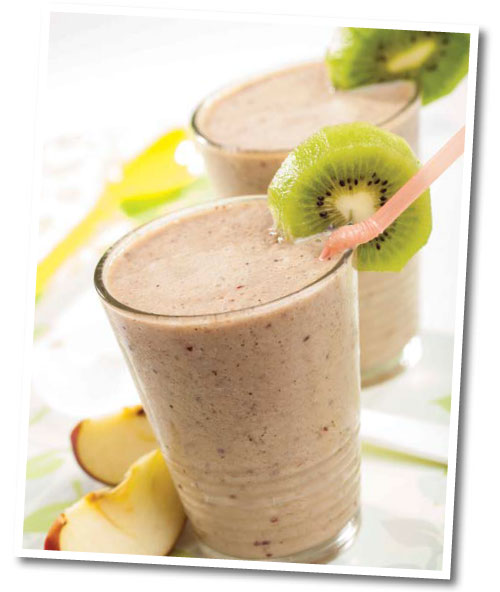 Ingredients
(Prepared for 3)
250 ml (1 cup) soy milk
100 g (1 whole) banana, peeled and sliced
100 g (1 whole) apple, seeds removed
179 g (1 whole) kiwi fruit, skin peeled
Method
Blend all the ingredients together and serve cold.
Serving Tips
Fruits used can be replaced with other local fruits such as honeydew, watermelon, etc.
Nutrition Tips
Soy is high in protein, fibre, and unsaturated fats. It is also rich in vitamins and minerals.
Get Your Little One to Help Out
Peel the banana skin and pour the soy milk into the whole mixture.
Nutrient content per serving:
| | |
| --- | --- |
| Calorie | 128 kcal |
| Carbohydrate | 25.0 g |
| Protein | 3.9 g |
| Fat | 1.4 g |
Recipes courtesy of 'Buku Masakan Pilihan Pakar Pemakanan, Jilid 2: Resipi untuk Seisi Keluarga' by Nutrition Society of Malaysia. To purchase this recipe book which includes 50 recipes, please email: [email protected]
An educational collaboration with Nutrition Society of Malaysia.