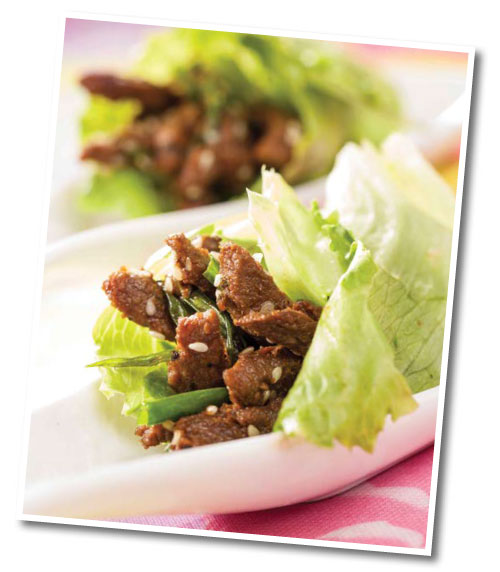 Ingredients
(Prepared for 6)
500 g beef, fat removed & thinly sliced
60 g fresh salad (about 6 individual leaves)
Blend Together :
10 g (1 whole) red onion
20 g (4 cloves) garlic
3 g (~1 tsp) black pepper seeds
10 g (½ inch) ginger
30 ml (~2 spoons) dark soy sauce
10 ml (~2 tsp) sesame oil
10 g (~1 tbsp) baked sesame seeds
30 ml (~2 tbsp) honey
15 ml (~1 tbsp) cooking oil
125 ml (½ cup) water
2 whole spring onions, finely chopped
Add salt to taste
Method
Cut the beef into thin slices. Poke the slices a few times with a fork to tenderise it.
Using a bowl, mix the beef slices with the ingredients you have blended and add in some honey, dark soy sauce, sesame oil and salt to taste. Allow it to marinate for a day or an hour at least inside the refrigerator.
Heat the cooking oil in a pan. Add in all the marinated ingredients into the pan and cook for about 2 minutes. Pour in ½ a cup of water and reduce the heat to a simmer and allow it to cook until the beef is succulent and tender. Keep adding in water until the beef is cooked.
Add everything from the pan into a clean bowl and sprinkle some chopped spring onions and baked sesame seeds on top.
Add about 2 tbsp of the cooked beef on each individual salad leaf and roll the salad firmly but carefully.
Dish is ready and best served hot.
Nutrition Tips:
Red meat is a good source of iron and is easily absorbed by the body compared to iron from vegetables.
Choose to remove fat from the beef slices to reduce the amount of fat in your diet.
Nutrient content per serving:
| | |
| --- | --- |
| Calorie | 218 kcal |
| Carbohydrate | 6.6 g |
| Protein | 25.1 g |
| Fat | 10.1 g |
Recipes courtesy of 'Buku Masakan Pilihan Pakar Pemakanan, Jilid 2: Resipi untuk Seisi Keluarga' by Nutrition Society of Malaysia. To purchase this recipe book which includes 50 recipes, please email: [email protected]
An educational collaboration with Nutrition Society of Malaysia.