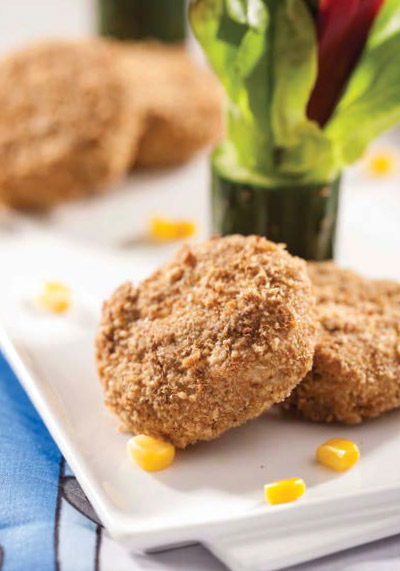 Ingredients:
(7 pieces)
180 g (1 tin) tuna in water, drained and mashed
180 g (2 nos) potato, boiled and peeled
100 g (1 cup) whole meal bread powder
60 g (1/4 cup) corn kernel/ fresh corn grain
3 g (1 teaspoon) coriander seed, finely ground
Salt and pepper to taste
Sufficient oil
Decoration: Lemon slices and cucumber or fresh salad leaves
---
Method:
Mashed the boiled potato in a bowl. Mix in tuna, fresh corn grain and coriander.
Add salt and pepper to taste. Shape the mixture into 7 croquettes.
Beat an egg in a large bowl. Immediately dip the croquette into egg mixture and coat them with a layer of bread powder.
Fry them in hot oil until the croquette pieces turn golden brown. Drain the excess oil and put the croquette on the oil absorbent paper.
Immediately serve with cucumber slices or salad leaves together with lemon and chili.
Nutritional Tip
There are varieties of tuna sold in the market. It is advisable to choose tuna in water without salt over tuna in oil.
Alternatively, you can grill the croquette in the oven at 180°C for 15 minutes.
---
Nutrient content per serving:
| | |
| --- | --- |
| Calorie | 106 kcal |
| Carbohydrate | 15.4 g |
| Protein | 8.9 g |
| Fat | 1.0 g |
An educational collaboration with Nutrition Society of Malaysia
Recipes courtesy of 'Buku Masakan Pilihan Pakar Pemakanan, Jilid 2: Resipi untuk Seisi Keluarga' by Nutrition Society of Malaysia. To purchase this recipe book which includes 50 recipes, please email:
[email protected]