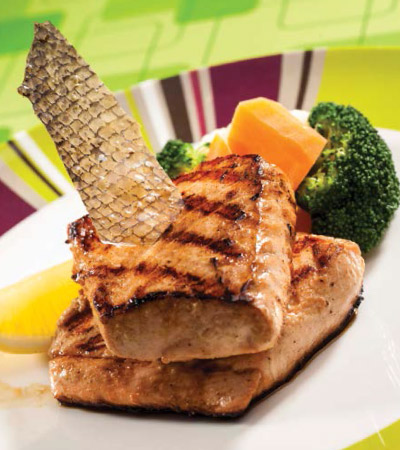 Ingredients:
(Serves 6)
600 g (6 pieces) of salmon steak
20 g (1 tablespoon) honey
100 g (1 lemon), squeezed juice
15 ml (1 tablespoon) olive oil
15 g (1 tablespoon) BBQ sauce
Salt to taste
30 ml (2 tablespoon) water
Decoration: dill leaves/ lemon
---
Method:
Clean the salmon and place it on the grilling tray covered by aluminium foil. Next, brush some olive oil on its surface.
Mix water with lemon juice, salt, honey and BBQ sauce. Stir and mix them thoroughly.
Pour the mixture on the salmon to cover them thoroughly. Marinate it for about 1 hour.
Grill the salmon in the oven for about 1 hour at 150°C. Remove the salmon from the tray and place it on the serving plate.
Decorate it with dill leaves or lemon and serve it while it is hot together with steamed vegetables, salad and sweet potato.
Nutritional Tip
Salmon contains Omega-3 Fatty Acid, Vitamin D and protein.
---
Nutrient content per serving:
| | |
| --- | --- |
| Calorie | 171 kcal |
| Carbohydrate | 2.7 g |
| Protein | 21.6 g |
| Fat | 8.2 g |
An educational collaboration with Nutrition Society of Malaysia
Recipes courtesy of 'Buku Masakan Pilihan Pakar Pemakanan, Jilid 2: Resipi untuk Seisi Keluarga' by Nutrition Society of Malaysia. To purchase this recipe book which includes 50 recipes, please email:
[email protected]