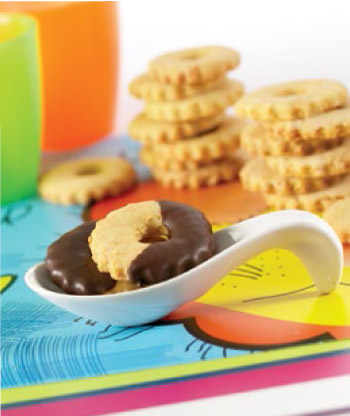 Ingredients:
(30 pieces)
250 g (2 cups) wheat flour, sieved
125 g (1/2 cup) margarine
1 egg
75 g (5 tbsp) icing sugar
15 g (3 tsp) baking powder
160 g (1 cup) finely grated Cheddar cheese
---
Method:
Preheat oven to 190°C. Grease a baking tray.
Cream margarine and icing sugar until light and fluffy. Add egg and cream well.
Fold in flour, baking powder and grated cheese. Mix gently until dough is formed.
Roll out dough to about 3 mm thick. Use a 6-cm diameter serrated cutter, cut out into circles. Place a 2-cm serrated cutter in the middle of pastry circle and cut out to form a ring. Place rings onto trays.
Bake for about 15 minutes in the pre-heated oven.
Serve hot.
---
Nutrient content per serving:
| | |
| --- | --- |
| Calorie | 80 kcal |
| Carbohydrate | 8.6 g |
| Protein | 1.9 g |
| Fat | 4.2 g |
An educational collaboration with Nutrition Society of Malaysia
Recipes courtesy of "Nutritionists' Choice Cookbook, Vol 1: Healthy Recipes for Your Little Ones" by Nutrition Society of Malaysia. To purchase this recipe book which includes 100 recipes, please email:
[email protected]