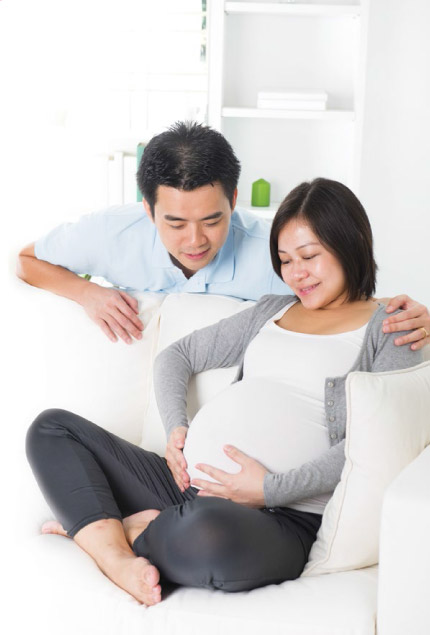 Starting a family is a big decision to make and while there are many challenges that await you, the rewards can be highly satisfying. It is also important that men take the trouble to learn more about their pregnant spouses' situation.
The following step should involve plenty of communication between the spouses – sit down and talk to each other about your expectations, to prevent any problems later on due to misunderstandings.
It is important that the roles of husband and wife be discussed and agreed upon beforehand. Remember that no detail is too small; after all, your day-to-day life is about to change profoundly!
Growing pains
Your spouse's body will undergo many changes during pregnancy, with the most obvious being a growing belly along with some weight gain. However, there are many other changes that are happening behind the scenes and when they are taken in totality may have unexpected or surprising outcomes such as bigger breasts, more lustrous hair, nails growing more quickly, a 'pregnancy glow' or a sudden rash of pimples, stretch marks, or swollen feet.
These changes are caused in large part by the hormone human chorionic gonadotropin (HCG) or better known as the pregnancy hormone. If you have ever made use of a pregnancy test kit, this is the hormone that it looks for. In addition to HCG, there are other hormones that will affect her as well, such as luteinizing hormone (LH) and follicle stimulating hormone (FSH). These hormonal changes are the reason for all the emotional changes in your spouse during her pregnancy.
This potent cocktail of hormones means that your spouse may be on an emotional roller-coaster, so please bear with her during her pregnancy. She may experience periods of fatigue, morning sickness, mental fuzziness, or be worn out. She may also be moody and display irrational bursts of emotions ranging from euphoria to inexplicable bouts of crying. You will need to make allowances for her during this trying and tiring period. Be on the lookout for depression as roughly 1 in 10 pregnant women suffer from it. Be sure to talk to her doctor about any concerns you may have.
It takes two to tango
Spread the workload – the father-to-be should play a more active role during her pregnancy, i.e. accompanying her during visits to her doctor, shopping together for baby items, helping to prepare your home for baby, etc.
Do make an extra effort to help out more at home since her pregnancy will limit what she can do in terms of housework. Be more supportive of your partner – if you smoke, now is a good time to quit. It is also a good idea to go for healthy meals and exercise together during your partner's pregnancy.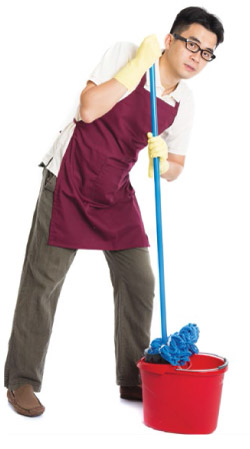 For the pregnant mother, know your limits – pregnancy does not make you an invalid, but you should also start delegating household chores to your partner. In addition, take extra care of your health – you now have your unborn child's health to consider as well. That means no smoking, drinking alcohol, or any physical activities that may affect your pregnancy.
Did you know?
The old adage 'eating for two' is often misinterpreted. It is true that you do need to increase your intake of vitamins, minerals, fibre, calcium, protein, iron, etc. However, it is not necessary to eat twice the amount you normally take. Your nutrition during pregnancy is important, so make it a point to get an expert's advice – talk to your doctor or a nutritionist for a clearer understanding of what and how much you should eat.
Don't neglect your emotions
As a parent-to-be, it is crucial to prepare yourself emotionally for baby. You will have about nine months from the time you learn about your pregnancy to accept that, your family is about to grow and to prepare for it. Learn as much as you can and remember to work with each other.
Communication is the key so take the time to sit down and talk with each other about your expectations, worries, fears, etc. This is also the time to revise household chores and responsibilities.
Make your plans early to avoid uncertainty when it is time for delivery. This includes where you will have baby and how you intend to deliver (natural birth, C-section, etc.)
Take some time out
Everyone needs a little alone time, so be sure to allocate some time from your busy schedule, doing things that you like. Taking an occasional break is a great way to deal with stress and ensure that you do not burn yourself out. Doing so gives your body and mind a break from the monotony of everyday life, thus reinvigorating you for the days ahead.
However, do arrange for date nights once in a while. It's crucial to keep things going between each other, so take the trouble to set aside some time for the both of you. Go out for dinner, see a movie, or just take an afternoon away from home to reconnect with each other.
An educational collaboration with Obstetrical and Gynaecological Society of Malaysia.