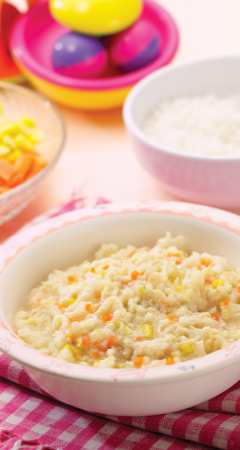 Ingredients:
(Serves 2)
60 g (¼ cup) cooked skinless chicken breast, cubed
90 g (1 whole) potatoes, peeled and diced
20 g (2 tbsp) carrots, diced
30 g (2 tbsp) sweet corn
125 ml (½ cup) chicken stock
30 ml (2 tbsp) breast milk
10 g (1 tbsp) onions, chopped
---
Method:
Place onion and chicken stock in a sauce pan and bring to boil.
Add potatoes. Cover and simmer for about 15 minutes.
Add sweet corn and cook for further 2-3 minutes.
Lastly add chicken and simmer until cooked.
Blend the mixture coarsely.
Add breast milk just before serving.
Suggestion
Instead of blending, you can mash with back of spoon while feeding.
Serve with soft rice.
---
Nutrient content per serving:
| | |
| --- | --- |
| Calorie | 90 kcal |
| Carbohydrate | 10.6 g |
| Protein | 7.6 g |
| Fat | 1.9 g |
An educational collaboration with Nutrition Society of Malaysia
Recipes courtesy of "Nutritionists' Choice Cookbook, Vol 1: Healthy Recipes for Your Little Ones" by Nutrition Society of Malaysia. To purchase this recipe book which includes 100 recipes, please email:
[email protected]