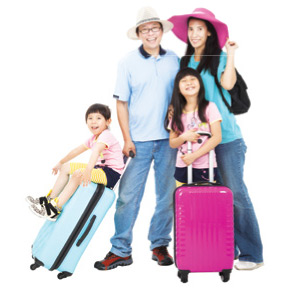 There are a number of things that can be done to prevent a flare-up, and should one occur, you must be prepared beforehand to deal with it. Otherwise, you risk turning your vacation into a disaster!
Atopic eczema flare-up may not have a clear-cut cause. Hence it is especially important that you teach your child good skin care habits as part of his everyday routine. However, there are some additional precautions that need to be taken when you take him for a vacation. While these precautions may not stop his eczema from flaring up, it does help to reduce the severity and frequency of flare-ups.
Did you know?
Atopic eczema, or atopic dermatitis, is a chronic skin condition. If your child has atopic eczema, his skin will become itchy, reddened, cracked and dry. While atopic eczema typically affects children, it can also continue into adulthood or it may start later in life.
The word 'eczema' originates from the Greek word ékzema (which is derived from ekzein, which means "to boil out"). This was how ancient physicians described any fiery pustules on the skin.
Preventing a flare-up
So what can you do to prevent flare-ups during your vacation? The first thing to do is to familiarise yourself with your child's condition in order to avoid the things that can cause a flare-up. You will need to know his sensitivities intimately if you are to avoid aggravating his condition, thus causing a flare-up.
Other precautions that you can take to minimise any potential flare-ups include the following:
Choose your accommodation wisely. Avoid hotels with old dusty carpets, beddings, curtains or poorly maintained establishments. These hotel rooms may be infested with house-dust mites which can aggravate atopic eczema.
Emollients. In hotter weather, you may find a less greasy cream will be better during the day as some children find a very thick greasy emollient makes them hot and itchy. When used correctly as a daily skin care regime, emollients become effective 'active treatments'. Emollient therapy is not just about products but understanding how and when to use them.
Ensure that your child drinks enough water. Always bring water with you to keep him hydrated.
Bring your own towels. The towels provided by the hotel may be cleaned using harsh detergents that could potentially aggravate his sensitive skin.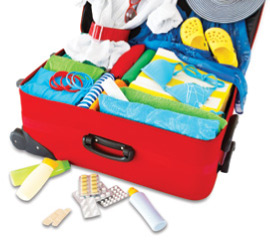 Bring your own bedding or get an anti-allergy travel bed sheet to place over the hotel's bed. This will reduce the possibility of harsh detergents, bed mites or any other allergens irritating his sensitive skin.
Limit baths to 10 minutes. Bring and use your own soap/cleanser as the ones provided by the hotel may not suit his sensitive skin.
Find out what types of food are available at your destination. This is especially important if he is allergic to certain foods (e.g. shellfish, seafood, etc.) as it could cause a flare-up.
Learn more about environmental factors. It is a good idea to be aware of things like temperature and humidity. Avoid extremely dry or hot places as it could lead to a flare-up. Even exposure to air-conditioning which is too cold for comfort can make your child's skin dry and aggravate his atopic eczema.
Keep his skin moisturised as often as possible. Use any fragrance-free moisturiser to prevent his skin from becoming irritated and cracked. Don't be afraid to apply it liberally and to reapply as often as needed.
Swimming. Pay careful attention to your child's skin care both before and after swimming. Chlorinated water can be drying and therefore irritate your child's skin. Ensure that you apply a thick layer of emollient before your child enters the pool to create a "chlorine barrier". After your child is done with the pool, shower him pronto, to rinse off the chlorinated water off his skin and apply more emollient after swimming once you have dried.
Use the right type of sunscreen. Many sun creams will irritate the skin. Reading ingredients list on the label is essential. You need to find one that is fragrancefree, protects against UVA and UVB and is labelled as hypoallergenic and paraben free.
Testing a sun block should be done gradually, in advance of the holiday. Try it on an area of the child's eczema free skin and expand the coverage areas after a few hours if there's no reaction. Generally SPF 30 or over is recommended for children. Put on the emollients and then put on sun protection around half an hour later (but before the child goes under the sun). Reapply the sun block every two hours.
Check with your dermatologist/paediatrician on which types to use.
Managing a flare-up
A lot of skin irritation is due to undertreated eczema rather than something in the sun block or environmental factor making it worse, so make sure you treat your child's skin properly before you go away.
If your efforts to prevent a flare-up were unsuccessful, there are still some things you can do to mitigate the problem. First of all, make sure to keep your child's skin properly moisturised. This will help to minimise the itch. There are many types of moisturisers, so pick one that he is comfortable with.
Other things that you can do to help your child manage his condition include:
Keep eczema medication close at hand. If necessary, fill up small travel bottles with your child's eczema medication. This way, you can easily access it in case of any flare-ups during the flight or any part of your travel to your destination.
Apply medication whenever necessary. Always bring your child's eczema medication with you on vacation. If you run out, make sure you know exactly what type of medication he uses so that you can get some from a nearby pharmacy.
Use wet wraps to sooth itchy skin at night. Let him soak in a lukewarm bath for around 10 minutes, then pat dry his skin before applying some moisturiser or medication. Moisten some clean gauze bandages with water and wrap the affected area. Next, cover it with a dry bandage/towel to help seal in the moisture.
Use a cold compress for itch relief. To make a cold compress, just use a cold and damp piece of cloth. Alternatively, you can wrap an ice pack or a cold canned/bottled drink in a soft towel.
Wear loose-fitting and comfortable clothing. Pick cotton or cotton-blends and avoid wool or other synthetic materials which could further irritate the skin.
Stay in control of the situation
Whether your child's eczema flares up during your vacation or not is not an issue. What's important is that you are ready for it and go for your holiday prepared not just mentally, but fully equipped to deal with any contingencies as well. In this way, you will be able to more fully enjoy your vacation without any worries.
An educational collaboration with Persatuan Dermatologi Malaysia.