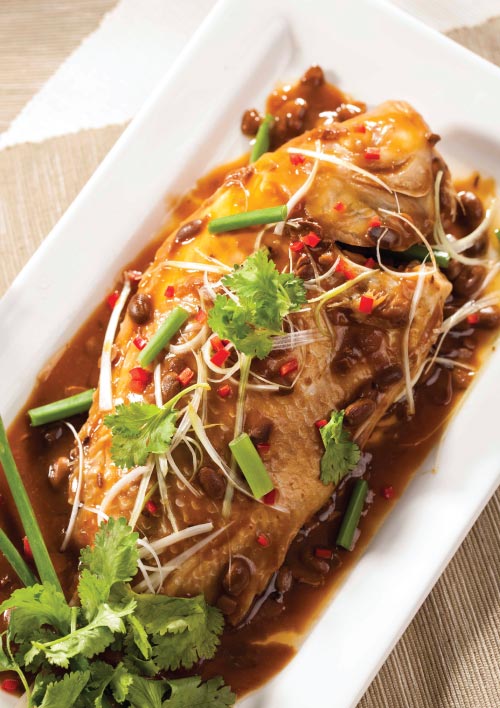 Ingredients:
(Serves 4)
300-400 g red Tilapia, cleaned
20 g (1 tbsp) preserved soy bean (taucu), mashed
5 g (1 clove) garlic, chopped finely
10 g (1/2 inch) ginger; julienned
7 ml (1/2 tbsp) cooking oil
30 ml (2 tbsp) water
4 g (1/2 whole) red chili, chopped (optional)
1 stalk spring onion, chopped
1 sprig coriander leaves, chopped
Nutritional Tip
Taucu is a paste made from preserved fermented soybeans in Chinese and Indonesian cuisine. The taste is salty, therefore it is advisable to add less salt or no salt at all when cooking Taucu.
---
Method:
Heat the cooking oil in a frying pan and lightly fry the garlic and ginger before adding in preserved soy bean paste. Add water and stir-fry until gravy begins to thicken. Remove from heat and add chopped chili.
Place fish in a heatproof serving dish, pour the gravy over it and steam over boiling water for 10-12 minutes. Test to see if fish is cooked by pushing a small knife into the thickest part of the fish to see if the flesh will come away from the bone. If the flesh comes away easily, the flesh is cooked.
Serve immediately, garnished with spring onion and coriander leaves.
---
Nutrient content per serving:
| | |
| --- | --- |
| Calorie | 94 kcal |
| Carbohydrate | 1.0 g |
| Protein | 16.2 g |
| Fat | 3.2 g |
An educational collaboration with Nutrition Society of Malaysia.
Recipes courtesy of 'Buku Masakan Pilihan Pakar Pemakanan, Jilid 2: Resipi untuk Seisi Keluarga' by Nutrition Society of Malaysia. To purchase this recipe book which includes 100 recipes, please email:
[email protected]