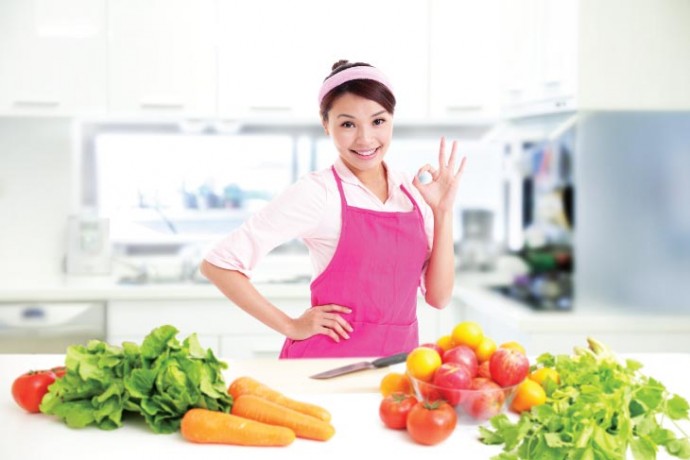 Want to stay healthy? Don't completely give up on your favourite local dishes just yet. Consider these six simple ways to make our local fares healthier.
'Healthy' isn't a word one often associate when describing our local cuisines that we just love so much. We certainly don't skimp on the coconut milk or the sugar when cooking, do we? It's these not so healthy ingredients that make our dishes richer and certainly more flavourful.
But that's not to say that there isn't any healthy Malaysian food. As parents, it is your responsibility to ensure your family eats healthy. We need to make smart choices and a few small changes here and there. Consider these easy ways to enjoy our local delights with your family while still keeping health in check.
Important!
Fruits and vegetables are not interchangeable, which means you cannot get away with feeding your child with just one or the other. Ensure variety in every meal.
Healthy tips!
When cooking with coconut milk, use less coconut milk and replace half of its amount with low-fat milk or reduce its thickness by adding more water.
1. Cook from scratch.
Avoid using ready-made sauces and seasoning as they contain too much fat, sugar and sodium. Take the time to make your own blend of spices. It'll make your cooking tastier as all of the ingredients are fresh.
2. Steam it!
Who doesn't love a good deep-fried siakap tiga rasa? For a healthier choice, but still taste just as good, steam the fish (skip the deep frying), and then pour your homemade sweet-sour sauce on the steaming hot fish. Garnish with coriander and serve.
3. Cook from scratch.
Enjoy a guilt-free, all-time favorite nasi lemak by omitting the coconut milk. Instead, cook the rice with lots of ginger and pandan leaves for that tantalizing fragrance. Once cooked, add a teaspoon of coconut oil for the coconut-ty aroma we all know and love. Alternatively, use brown rice instead of white.
4. Go heavy on the veggies.
Colour your plate with different types of vegetables and fruits. To entice your child's appetite, decorate your dish with vegetables of various colors, shapes, texture and sizes. Not only will it add more nutrients to your meal, it'll help to make your dish look more interesting, attractive, appetizing, and delicious to eat too!
5. Use natural flavourings.
Flavour your food with bold herbs and spices to enhance the flavour of your dish, rather than relying on salt for taste. Pandan leaves and lemon grass are fragrant, refreshing options too.
6. Make appropriate choices.
Choose wisely when dining out. Love curry noodles? Have it with bihun instead of yellow noodles or kuey teow with loads of green vegetables and bean sprouts. Buy your child clear soupy noodles instead, and limit fast food to an occasional treat.
Another tip that can come in handy is to be mindful of the food portion. Everyone can still enjoy our tasty local dishes but balance, moderation and variation are important. Make sure to serve more veggies and whole grains and less of meat group (protein) and cereal group (carbohydrates). More importantly, savour it! When you enjoy what you eat, you'll feel more satisfied. You don't have to completely deny yourself and your family favourite local delights just to lead a healthier lifestyle.
An educational collaboration with Nutrition Society of Malaysia.