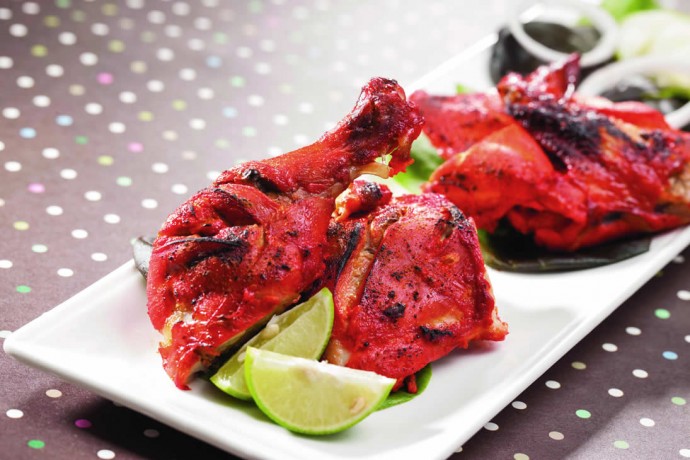 Ingredients:
(Serves 6-8)
2 kg (1 whole) chicken, skin and fat removed, quartered
40 g (4 cloves) garlic, chopped
40 g (2 inch) ginger, blended
30 ml (2 tbsp) lemon juice
250 ml (1 cup) plain yoghurt
3 g (1 tsp) garam masala
3 g (1 tsp) ground coriander
3 g (1 tsp) ground cumin
3 g (1 tsp) ground turmeric
3 g (1 tsp) ground fennel
3 g (1 tbsp) sweet paprika
30 ml (2 tbsp) mint sauce (optional)
15 ml (1 tbsp) oil
Salt and pepper to taste
---
Method:
Heat oil in a small pan over medium heat. Stir in the coriander, cumin, turmeric, fennel, garam masala, mint sauce and paprika. Sauté until fragrant (approximately 2-3 minutes). Set aside to cool.
Whisk in the cooled spicy oil mixture into the yogurt. Gently mix in the lemon juice, garlic, salt and ginger.
Cut deep slashes (to the bone) in 3-4 places onto the leg/thigh pieces. Just make 2-3 cuts if you are using separate drumsticks and thighs. Coat the chicken in the marinade, cover and chill for at least an hour (preferably 6-8 hours or overnight).
Preheat oven to 240°C. Transfer the chicken pieces to an ovenproof dish. Bake the marinated chicken in the oven for about 20-25 minutes or until the chicken is cooked right through and browned on top. The chicken is done when the juices run clear.
Let it rest for at least 5 minutes before serving.
Serve with naan, Indian flatbread, or steamed rice.
---
Nutrient content per serving:
| | |
| --- | --- |
| Calorie | 137 kcal |
| Carbohydrate | 1.2 g |
| Fat | 5.7 g |
| Protein | 20 g |
---
Recipes courtesy of 'Buku Masakan Pilihan Pakar Pemakanan, Jilid 2: Resipi untuk Seisi Keluarga' by Nutrition Society of Malaysia. To purchase this recipe book which includes over 50 recipes, please email: [email protected]