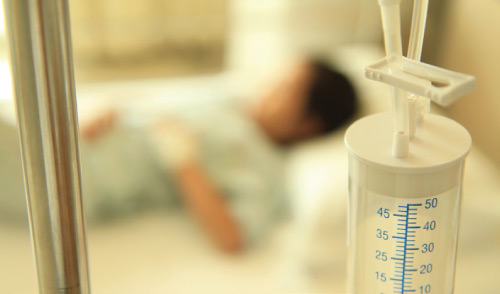 When 2-year-old old Nur Aliya Farhanis fell ill with a cough and fluctuating fever, her parents, Syahrul Azhar and Siti Zabedah thought that it was just a common cough.
However, when Aliya's fever failed to subside after four days, they quickly rushed her to a hospital, where the doctor ran a blood and urine test; the results pointed to a Urinary Tract Infection (UTI). A course of antibiotics was then prescribed for her.
A trying time
Over the next three days, Aliya showed no signs of improvement. Despite taking the antibiotics dutifully, her fever spiked up to 40 degrees Celsius every four to six hours. Her worried parents took her back to the same doctor at the hospital, and she was quickly admitted for further observation.
The attending paediatrician suspected a chest infection and ordered more blood tests, a urine test for streptococcus pneumonia and a chest x-ray. During this time, Aliya continued to suffer high temperatures.
"Aliya was restless when she slept and complained of chest pains. The antibiotics were clearly not working and we were frightened because we did not know what was wrong with her," Siti Zabedah recalls.
The results from the tests were shocking! The chest x-ray revealed that Aliya's right lung had collapsed and she had pleural effusion* (fluid in her lungs).The most likely causative bacteria was the pneumococcus.
After an urgent consultation with a paediatric surgeon, Aliya was wheeled into the operation theatre for a thoracotomy (operation on her lungs) to remove the fluid from her lungs. The surgery took almost 45 minutes, and the surgeon left a tube in her lung cavity to help drain residual pus from her lungs.
Speedy recovery
After the surgery, Aliya was nursed for two days in the High Dependency Unit (HDU), where she could be closely observed. With stronger antibiotics administered through her intravenous line, her fever went away and she started to look much stronger and healthier.
Aliya recovered completely after a 10 day stay in the hospital and was discharged with no complications or side effects from the illness, apart from a scar on her chest.
It is still unknown where Aliya had acquired pneumococcal pneumonia, which is a fatal disease, especially for children below 2 years old. Aliya was not vaccinated against this particular infection because there were no pneumococcal conjugate vaccines (PCV) in Malaysia then. The 7-valent PCV only became available in Malaysia at the end of 2005.
"The whole procedure cost us RM 21,884. If the vaccine had been available earlier, I would have had all my five children vaccinated. Seeing Aliya fight for her life to overcome the disease was a terrible and frightening experience. I would advise all parents to get their children vaccinated, especially those with children under the age of five. Although this vaccine is an optional vaccine in Malaysia, the risk of getting infected with pneumococcal disease is high and it is better to be safe than sorry. My paediatrician highly recommends this vaccine for all children from 6 weeks of life onwards," advises Siti Zabedah.
Important facts
Pneumococcal diseases are caused by Streptococcus pneumoniae, commonly known as pneumococcus. It attacks various parts of the body and is commonly found in the nose and throat of children and adults.
There are two types of pneumococcal diseases: invasive and non-invasive diseases. Invasive diseases are more serious and occur within a major organ or the blood. They include pneumonia, bacteraemia (blood infection) and meningitis (inflammation of the lining of the brain and spinal cord). Non-invasive diseases occur outside major organs and blood and they include otitis media (infection of the middle ear) and sinusitis (inflammation of the sinuses).
There are more than 90 strains (serotypes) of pneumococcal bacteria and the first pneumococcal conjugate vaccine (PCV13) protects against 13 of them. PCV13 is routinely given to infants as a series of 4 doses, one dose at each of these ages: 2 months, 4 months, 6 months, and 15 months
*Pleural effusion is a collection of fluid in the space between the two linings (pleura) of the lung. Normally, a small amount of fluid is present in the pleura; however, an excessive production of fluid through the outer layer or reduced re-absorption across the inner layer can cause pleural effusion.