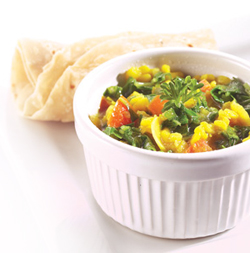 Ingredients
100g dhall, washed and soaked for 1 to 2 hours. Drained.

400ml water

300g spinach, washed and cut into small pieces with the stem

2 medium-size tomatoes, sliced into small pieces

3 green chillies, sliced into small pieces

5 garlic pips, pounded coarsely

8 shallots, sliced into small pieces

1 tbsps ginger, sliced thinly

1-2 tsps coriander seeds or curry powder

2 tsps cumin seeds

1⁄2 tsp turmeric powder

1 tbsp tamarind juice

1 tbsp vegetable oil

3 stalks coriander leaves, chopped finely

Salt to taste
---
Method
Boil dhall in water with green chillies, shallots, garlic and ginger. Add 1 tsp oil.
Boil until dhal become soft.
Add spinach and cook for 15 minutes.
Add tomatoes, spices and lastly, tamarind juice.
Add salt. Mix well and mash vegetables and dhall with the ladle until mixture becomes a thick porridge.
Add coriander leaves and remove from heat.
---
Nutrient content per serving
| | |
| --- | --- |
| Calories | : 173 kcal |
| Carbohydrate | : 24.9 g |
| Protein | : 7.8 g |
| Fat | : 4.8 g |