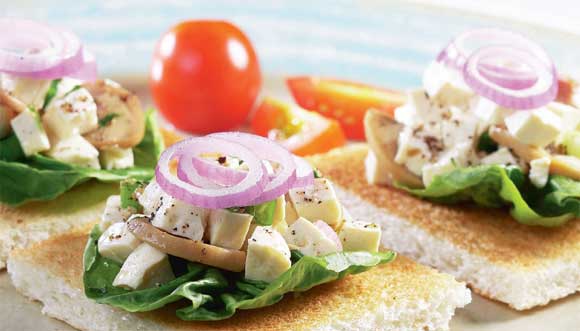 Ingredients:
Serves 8 open-faced sandwiches
40 g margarine

200 g button mushrooms, sliced

400 g tofu, drained and crumbled

1 clove garlic, crushed

2 spring onions, chopped

1 tbsp finely chopped fresh parsley

1 tsp tamarind juice

8 slices brown bread

a dash of pepper
---
Method:
Melt 1 tbsp of margarine in a large pan.
Increase heat slightly, add mushrooms and cook until they begin to lose moisture. Add garlic and cook another 5 minutes or so, until liquid has evaporated. Remove from pan.
Melt remaining margarine in pan. Add spring onion and cook until just wilted.
Add tofu, tamarind juice and mushrooms and stir gently until tofu is heated through.
Stir in parsley and season with pepper.
Lightly toast the bread, with a little margarine. Serve with the scrambled tofu.
---
Nutrient content per serving
| | |
| --- | --- |
| Calorie | : 210 kcal |
| Fat | : 5.4 g |
| Protein | : 8 g |
| Calcium | : 65 mg |
| Iron | : 2.5 mg |