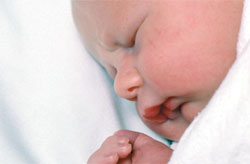 Your newborn is so fragile and vulnerable that you need to protect him from every injury, however small. The home is where baby will spend most of his waking and sleeping time. Here are some tips on how you can make it a safer place for baby's first few months of life and what to decide for baby before he arrives.
Cot Safety
The safest place for baby to sleep is a cot. Although many Asian parents use the "sarong cot or hammock" or "buai", we do not recommend it based on the reasons given later.
Screws and bolts must be securely installed to prevent the cot from collapsing.
Check that the cot has a durable, non-toxic finish that will not harm baby.
The cot must be free of sharp edges and exposed screws or bolts that could scratch or cut baby, or catch his clothing (which may, in turn, cause strangulation or some other serious injury).
The mattress should fit snugly against the sides of the cot, leaving a space no more than 2 fingers' width in between.
The bars of the cot should be no more than 6 cm apart. If it's any wider, baby could slip through and get strangled between the bars.
Instead of lining the sides of the cot with pillows or bolsters (which may smother baby), install cot bumpers that come with safety straps to ensure a snug fit. Check bumper ties regularly to ensure they are secure.
Do not use plastic mattress pads. The plastic can cling to baby's face and cause him to suffocate.
The top rail of the cot must be 65 cm (when raised) above the base of the cot (bottom of the mattress) and at least 23 cm (when lowered).
Lay baby to sleep on her back unless there is clear medical advice to do otherwise. This is the safest sleep position and helps prevent Sudden Infant Death Syndrome (SIDS).
Do not clutter the cot with pillows, soft toys or thick blankets. Remove all toys before baby goes to sleep.
Blankets can smother baby's face and cause suffocation. It is thus safest to use a cellular blanket that allows air to pass through the fabric. When using a blanket, always place baby in the 'feet-to-foot' position with his feet just touching the end of the cot; this helps prevent his from wriggling underneath the blanket. Ensure that the blanket is tucked in tightly at the sides and does not reach higher than baby's shoulder.
Never tie or harness baby in his cot.
Cot Tips For The Growing Baby
All cots have 2 or 3 adjustable mattress heights. At first, baby's mattress should be set at its highest position (the distance from the top of the mattress to the top rail should be not less than 30 cm). As baby grows and gains the ability to sit up and stand, you will need to keep lowering the height of his mattress to the next and subsequent levels down. This is to prevent baby from climbing up the cot side.
Remove cot bumpers once baby can sit unaided.
Also, do not place the cot near windows, curtains, lamps, electrical cords and appliances (such as fans) or any other piece of furniture that baby can use to climb out of her cot.
Warning On Beds & 'Buai'
Sarong hammocks (more commonly known as the 'buai') and beds for children or adults are unsafe. Many babies who were placed in the 'buai' have been admitted to hospital for serious head injuries as a result of knocking into furniture or simply falling out. It is also believed that the up-down motion of the 'buai' may cause bleeding (haemorrhage) in the brain. Baby should not be left alone on a bed as she might fall off the edge.
Other Baby Safety Tips
Nappy Change. Never leave baby unattended on a changing table or bed. When changing baby's nappy on a changing table or bed, keep a hand on her at all times.You can also change baby on a mattress or blanket placed over a clean floor.
Baby Toiletries. Do not shake baby powder near baby's face as she might breathe it in. It's best to pour the powder onto your hand and then rub it onto baby. Baby powder, oil and lotion can cause illness if swallowed so keep it out of baby's reach.
Baby Monitors. Baby monitors help alert you when baby is upset or has woken. Use one that has been tested for safety, follow the manufacturer's instructions for use and maintenance, test the batteries regularly and keep the monitor out of baby's reach.
Allergens. Keep your home and pets as clean as possible. Dust, mold, certain insects and pet hair can trigger asthma attacks and other allergic reactions.