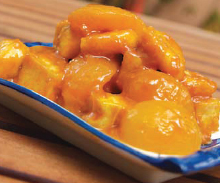 Ingredients
375 g firm taufu, cubed

1 tablespoon oil

2 teaspoons oil, extra

1 small onion, quartered

2 teaspoons grated ginger

425 g can apricot halves, drained, juice reserved

2 teaspoons mild curry paste }

1 tablespoon corn flour } mix together

3 tablespoons water }

2 tablespoons plum sauce

2 teaspoons brown sugar

1⁄4 teaspoon salt

2 medium bananas, sliced
---
Directions
Heat the oil in a non-stick pan. Add the taufu and brown well on all sides. Remove and drain.
Heat the extra oil and sauté the onion until tender. Add the ginger, curry paste and corn flour and cook for 1 minute mixture. Cook for 1 minute, stiring to form a smooth consistency. Add a little more water if necessary.
Add the apricot juice, plum sauce, sugar and salt, stirring until boiled and thickened.
Fold in the apricots, banana and taufu. Heat through and serve with rice.