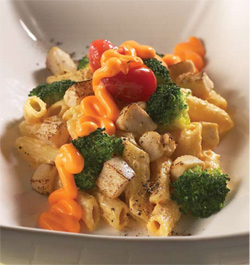 Ingredients
200 g penne pasta

250 g broccoli florets

2 tbsps cooking oil

1⁄2 tsp lemon juice

1 chicken breast, diced

100 g grated Cheddar cheese

1 tbsp lemon juice

Salt and pepper to taste
---
Directions
Cook pasta, drain and set aside. Using the same water, scald broccoli florets for about 2 minutes and set aside. Reserve water in pot.
Heat oil. Add the chicken pieces and fry gently for 1 minute.
Add 4 tbsps of the reserved water to the chicken & cook over slow heat until chicken is cooked.
Place the cooked pasta in a separate saucepan. Pour the cooked chicken, broccoli and grated Cheddar cheese onto the pasta. Gently stir over low heat, just to melt the cheese. Squeeze a dash of lemon juice before serving.
---
Nutrient content per serving
| | |
| --- | --- |
| Calories | : 406 kcal |
| Carbohydrate | : 45.0 g |
| Protein | : 2.1 g |
| Fat | : 15.8 g |