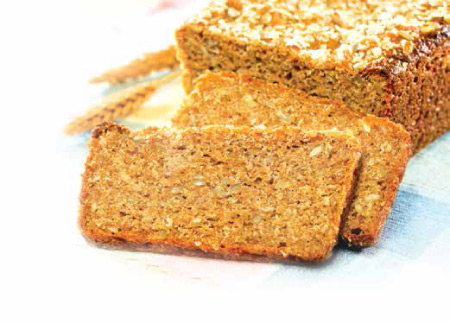 Bread base ingredients
100g (3⁄4 cup) plain flour

80g (3⁄4 cup) wholemeal flour

43g (1⁄2 cup) ground almond

7.6g (2 tsp) baking powder

2g (1⁄2 tsp) bicarbonate of soda

2.6g (1⁄2 tsp) salt

1.3g (1⁄2 tsp) cinnamon

130g (2⁄3 cup) caster sugar
Banana Mix
2 large eggs, lightly beaten

1⁄4 tsp vanilla, either pure or essence

100g butter, melted and cooled

2 tbsp yogurt or reduced-fat milk

1cup (4) ripe bananas, peeled and mashed
For variation: decorate with oatmeal, sunflower/pumpkin seeds or walnuts
---
Method
Preheat oven to 160°C. Lightly grease a 19 x 9 cm loaf tin with butter or line with baking paper.
Place bread base ingredients into the bowl of electric mixer. Mix on low speed for about 1 minute.
Add eggs, vanilla and melted butter. Beat on medium speed for 3 minutes. Remove bowl from mixer and fold in milk and banana by hand. Do not over mix the mixture, it is okay if the batter looks lumpy.
Pour the mixture into the prepared tin and bake for 50 minutes, or until a toothpick inserted into the centre comes out clean. Cool in tin for 5 minutes.
Transfer to a cooling rack and when it is fully cold, slice into 12 pieces.
Note:
You may use other nuts or seeds like walnuts or sunflower/pumpkin seeds instead of ground almond or a mixture of them.
Instead of baking in loaf tin, you may use cupcake liners and bake for 30 minutes or if toothpick comes out clean.
---
Nutrient content per serving
| | |
| --- | --- |
| Calories | : 228 kcal |
| Carbohydrate | : 30.3 g |
| Protein | : 4.5 g |
| Fat | : 9.9 g |